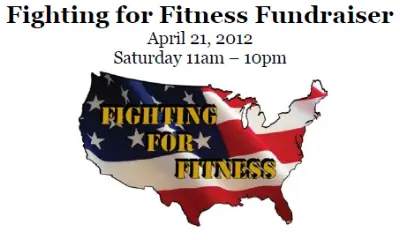 FOR IMMEDIATE RELEASE
Contact: Stacy Soquet, Day: 951-205-4175, Eve/Weekend: 951-205-4175, VACKSPR@gmail.com
ACTIVATE YOUR LIFE THE RIGHT WAY
Fundraising to Fight Obesity Among Youth
SANTA ANA, CA: Orange County-based 501(c)3 nonprofit, Fighting for Fitness, is hosting a fundraiser on Saturday, April 21, from 11 a.m. to 10 p.m. at Oggi's Pizza and Brewing Co. at 13612 Newport Ave. in Tustin, CA. 10 percent of food sales are being donated from dine-in, pick-up, take-out and delivery purchases. Patrons must bring the flyer (available upon request) or mention Fighting for Fitness to their server to receive the donation.
Fighting for Fitness raises awareness to the epidemic of childhood obesity occurring among America's youth as well as helps to "punch out" obesity through providing free, non-threatening, MMA-inspired classes for children in Santa Ana and Laguna Beach. The organization also offers other programs, such as Reality Healthy Eating, which brings together a balance of nutrition, taste and simplicity to encourage today's busy families to eat healthier.
About one in three American kids and teens are currently overweight or obese; nearly triple the rate in 1963, according to the American Red Cross. Among children today, obesity causes multiple health problems down the line that previously isn't seen during adolescence. These include high blood pressure, type 2 diabetes and elevated blood cholesterol levels. There are also psychological effects: obese children are more prone to low self-esteem, negative body image and depression.
For more information on Fighting for Fitness, visit FightingforFitness.org. Pictures are available and Karin Toth, the founder of Fighting for Fitness, is available for interviews upon request.
# # #