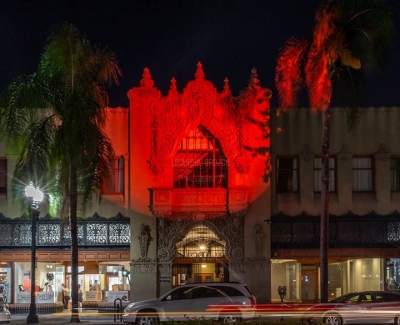 Downtown Santa Ana will begin shining a light on Santa Ana's treasure trove of historic buildings this Saturday, Dec. 7.
Orange County's finest collection of Art Deco/Moderne, Beaux Arts, Neoclassical and California Churrigueresque-style buildings from the 1910s through the 1930s will be lustrously lit each Saturday night this month from 6 to 10 p.m.
The lighting display kicks off during the monthly DTSA Artwalk. The Artwalk takes place from 6 to 10 p.m. Saturday and is centered at 125 N. Broadway.
Art galleries and restaurants will be open, and there will be vendors, live performances, activities for children and a free trolley. Additionally, downtown's giant Christmas tree remains lit for the holidays in Plaza Calle Cuatro at 4th and French streets.
The historical buildings that will be illuminated include:
• Spurgeon "Clock Tower" Building, 4th and Sycamore streets: This Neoclassical structure was envisioned by the founder of Orange County and first mayor of Santa Ana and was the birthplace of Orange County commerce. The clock tower was restored in the 1990s.
• First National Bank Building, 4th and Main streets: Orange County's first "high rise" steel-frame constructed building, this Beaux Arts building was designed by John Parkinson, the famed architect behind Los Angeles City Hall, Union Station, Los Angeles Memorial Coliseum and the Bullocks Wilshire Building.
• Santora Building, 2nd Street and Broadway: With a name that is a portmanteau of the words "Santa Ana" and "Orange," the Santora building is a rare and jaw-dropping "ultra-gothic" example of California Churrigueresque architecture reminiscent of 17th century Madrid.
• Old City Hall, 3rd and Main streets: Constructed with a $126,000 Works Progress Administration (WPA) grant, this Assyrian warrior-clad Art Deco/Moderne gem was the seat of Santa Ana's municipal government from the 1930s to the 1980s. It was designed by famed Long Beach architect W. Horace Austin, who also designed Santa Ana's Masonic Temple and the Bowers Museum.
The historical building holiday lights program was initiated by Downtown Inc. and co-sponsored by 4th Street Market and the owners of Old City Hall, the First National Bank Building, Santora Building and the Spurgeon Building. Lighting design was by Deryk Dustin.
Two hours of free parking is available at City parking structures at 5th and Spurgeon streets, 5th and Main streets, 3rd Street and Broadway and 3rd and Birch streets.