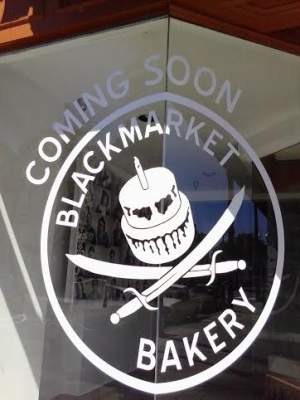 Blackmarket Bakery owner Rachel Klemek has signed a lease to open a bakery in the Santora Building at 211 N. Broadway in downtown Santa Ana, in a space that was previously a clothing store, according to the OC Weekly.
While the Blackmarket Bakery in Costa Mesa has very good Yelp reviews, the new Santa Ana location has upset a few local artists, who contacted me to complain about Blackmarket's logo, which resembles the Islamic Jihad flag used by terrorists all over the world (see pictures below).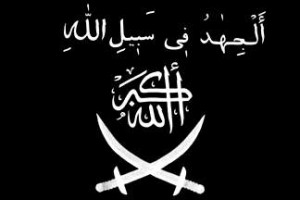 Many are familiar with what some call "the black flags of jihad" flown by Islamic extremists from Jabhat al-Nusra to Al Qaeda. The flags vary in appearance, but most share a similar theme: they typically have white writing on a black flag, and depict the shehada, or profession of faith that there is no god but god, and Muhammad is his messenger, according to The Blaze.
You would think that Klemek would be more sensitive to this issue as her surname is Polish.  The Polish army led the defeat of the Jihadi Ottomans at Vienna in 1683, according to the History of Jihad.  The Ottoman Turks invaded Eastern Europe and killed and enslaved thousands of Europeans, including Poles, during the Turkish Ottoman war against the Byzantine Empire.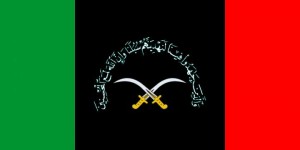 There are still vestiges of those ancient Turkish invasions all over Eastern Europe, where pockets of Muslim communities still exist today, such as the Chechnyans in Russia and the Bosnian Muslims.
And the black Islamic Jihad flag has been featured recently as the backdrop during beheading of innocent people in Iraq, including an American journalist, by the ISIS Jihad army.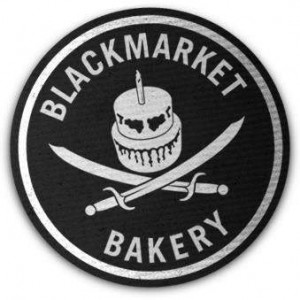 Blackmarket's products include "Cakes made from scratch with flavors ranging from the exotic to the nostalgic. Florentines brimming with almonds, cranberries & candied ginger. All butter croissants enclosing a blast of Belgian dark chocolate," according to their Facebook page.
They plan to sell pan dulce at the new Santa Ana location.  Do they realize that Spain, which settled Mexico, was conquered by Moorish Jihadists for over 800 years?  Spanish Christian knights, led by El Cid, eventually overthrew their Islamic overlords.  But the lessons they learned from their Muslim conquerors may well have led to the conquering of the Native Americans in Latin America.  The descendants of those natives created pan dulce, which was also inspired by the French, who briefly occupied Mexico but were defeated in 1862.  But the Spanish were the ones who originally introduced wheat flour to the people of Mexico.
One must wonder if the Blackmarket Bakery intends to run a clean restaurant in Santa Ana given their history of health violations.  Their Costa Mesa location was most recently inspected on March 25, 2014.  That was a re-inspection and they were cleared but they racked up quite a few health violations when they were previously inspected on February 20, 2014.  Here are the health violations that were noted during that inspection:
Lack of/Unsanitary/Condition Walls/Floors/Ceilings
Water Temp (100F-119F)/Wash Temp <100F/Cross Con
Facility not Fully Enclosed/Open Door/Air Curtain
Last Report Unavailable/Consumer Access
Inappropriate Sanitizer Level/ Lack of Test Strips
Unsanitary Equipment/Utensil/Linen/Plumbing
Lack of Food Protection Manager Certificate