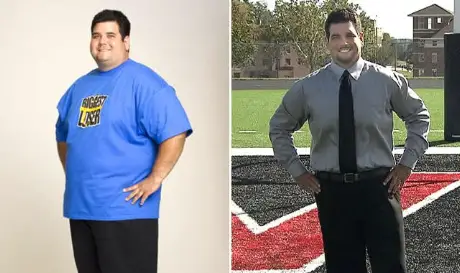 Santa Ana Councilwoman Michele Martinez has been very busy of late, doing what she loves to do – fighting obesity and promoting healthy living.
She recently honored:
Martinez wrote a post about Hurtado, on her blog.  That's him in the picture atop this post.  Here are a few excerpts from that post:
Hurtado starred in the most recent edition of the Biggest Loser T.V. show.  Hurtado was the runner-up, but it is what he has done since he left the show that has made a real difference.

Hurtado weighed over four hundred pounds before his stint on the Biggest Loser.  He now weighs 244 pounds!
And because of Martinez, the City of Santa Ana became the largest city to pass a HEAL resolution.  Here is the press release, which she published earlier this week on her blog:
Charlotte Dickson, CA Center for Public Health Advocacy, (530) 219-1487, or
Michele Martinez, City of Santa Ana, (714) 380-4339
Santa Ana Becomes Largest City to Pass HEAL Resolution
Santa ana, CALIF., February 7, 2011 … The Santa Ana City Council voted today to take on the obesity crisis by adopting a resolution and joining the ranks of other cities around the state as a member of theHealthy Eating Active Living Cities Campaign (HEAL), a statewide campaign aimed at reducing local obesity and physical inactivity rates through the introduction of city policies. Santa Ana now has the distinction of being the largest city in the state to enjoy this designation.
While citizens play an integral part in the diet and exercise choices they make, Santa Ana policymakers recognize that local government plays an important role in creating environments that allow for easier access to healthy food choices and indoor and outdoor recreation venues.
"Personal responsibility is a factor, but the environment plays a major role in the shaping of behaviors and lifestyles," said City Council Member Michele Martinez. "We've been working toward these goals for a while, but before HEAL we didn't have a way to define them. The first step is defining all of our successes, planting the seeds and seeing where we can go in the future. The long-term goal is to bring true systems' change to Santa Ana."
In California, where more than half the adult population is obese or overweight, a recent study showed that the epidemic is costing the state more than $41 billion a year in health care costs and lost productivity. The City of Santa Ana is committed to addressing obesity and diabetes related illness among Santa Ana residents by improving food and physical activity environments. Part of the HEAL resolution is to address walking and biking connectivity between residential neighborhoods and schools, parks, recreation resources and retail by developing a bicycle and pedestrian master plan, as well as increasing open space and the number of parks, particularly in park-poor neighborhoods.
"A lot of people want to exercise and stay fit but don't have easy access to public parks and trails," said Gerardo Mouet, Santa Ana's executive director of the Parks, Recreation and Community Service Agency. "Increasing access to public parks is one of the few ways for many people to have an active lifestyle."
Support for the health of residents and the local workforce through prevention policies and programs would decrease chronic disease and health care costs and increase productivity. The resolution also focuses on childhood obesity by encouraging the participation of the youth in healthy activities through various city-sponsored programs, such as the Police Athletic and Activity League and the Library Youth Health Ambassadors, and through programs offered at city parks, joint-use parks, trails and recreation centers.
For more information about the HEAL Cities Campaign, visit www.healcitiescampaign.org.
#30#
Kudos to Martinez, who is really making a difference in our community!