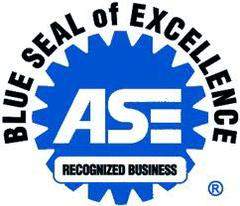 City of Santa Ana, Downtown Orange County
Community: City of Santa Ana's Facilities-Fleet Maintenance-Central Stores is Honored with ASE's Blue Seal Award
SANTA ANA, CA (November 30, 2012) – The Finance Department's Facilities-Fleet Maintenance-Central Stores (FMCS) staff recently received word of its latest professional honors: the National Institute for Automotive Service Excellence (ASE) Blue Seal. This award recognizes a select group of public and private fleet organizations whose staff and facilities meet ASE professional standards. To receive the award, 75% of the technicians performing diagnosis and repair must be ASE-certified. Additionally, each service area offered in the shop must be covered by at least one ASE-Certified Technician. Moreover, at least one of those ASE-Certified Technicians must be certified in Alternative Energy Technology.
Earning ASE-Certified Technician status is no easy matter. Fleet technicians must pass written or computer-based tests in specific subject areas such as Brakes, Electrical/Electronic Systems, and Engine Performance. In addition to passing a battery of tests, technicians must show that they meet the on-the-job work experience required for ASE certification.
Unlike a high school diploma which is a permanent achievement, certification under ASE is not for life. Technicians must take and pass a Recertification Test every five years to maintain ASE-certification. Blue Seal status is even more rigorous as ASE evaluates the shop program annually to ensure professional certification credentials remain current.
What does this all mean to the residents and employees of the City of Santa Ana? It means that when you take a police patrol car or a backhoe or a compressor to FMCS for service, you can rest assured that your equipment is in very good hands.
####