Child Care Assistance grants are now available for Santa Ana residents who have been financially impacted by COVID-19 and require assistance to pay their child care costs to stay on the job or get back to work. The grant provides up to $1,000.
To qualify, you must be a Santa Ana resident who requires child care to stay on the job or to get back to work AND
• Has become unemployed OR
• Family income has been reduced OR
• Is an essential worker
Households will be limited to one grant, regardless of the number of children in the household. Only one grant can be issued per eligible household address.
This grant is part of the Santa Ana CARES program that provides financial assistance, free COVID-19 testing and other pandemic resources.
Learn more at www.santa-ana.org/CARES.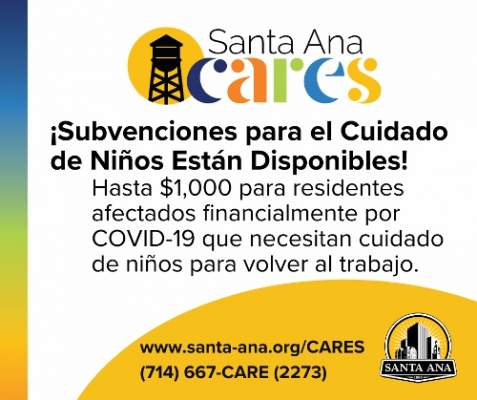 Subvenciones para el Cuidado de Niños Están Disponibles para Trabajadores
Subvenciones de Asistencia para el Cuidado de Niños ahora están disponibles para los residentes de Santa Ana que han sido afectados por COVID-19 y requieren cuidado infantil para permanecer en el trabajo o volver al trabajo. La subvención proporciona hasta $1,000.
Para calificar, tiene que ser residente de Santa Ana que requiere cuidado de niños para permanecer en el trabajo o volver al trabajo y
• Se han quedado desempleados o
• Los ingresos familiares se han reducido o
• Es un trabajador esencial
Los hogares se limitarán a una subvención, independientemente del número de niños en el hogar. Solo se puede emitir una subvención por dirección familiar elegible.
Esta subvención es parte del programa Santa Ana CARES que proporciona asistencia financiera, pruebas de COVID-19 gratis y otros recursos pandémicos.
Aprenda más en www.santa-ana.org/CARES.