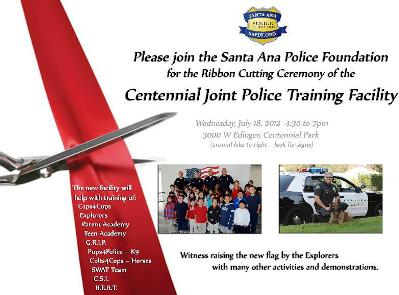 Greetings! Santa Ana Police Foundation Friend,
Join us – at our new training facility in Centennial Park!

Help us – recognize our newest Community Hero, Beatriz Jimenez, as well as you, the donors who have supported the Meza Family through their tragedy of losing their daughter Osmara to a DUI driver. Your outpouring of love and support has been amazing.
Learn about us – Explorer Program, Caps-4-Cops, K9 Pups-4-Police, and many other great programs!
Help your business and employees – Reconsider Emergency Preparedness.
Keep us – in the forefront of your mind, in your Contacts, as your Facebook friend, follow us on Twitter!
It will be a festive evening of education, recognition, fun, food and fellowship!
SAPDF – …be a part of it!
Click on this link to register or RSVP.
Where: Centennial Park, 3000 W. Edinger, Santa Ana, CA (follow signs to the right of the lake)
When: Wednesday July 18, 2012 from 4:30 PM to 7:00 PM PDT
Contact our office with questions; we are here and eager to talk with you. And, more importantly, we look forward to seeing you Wednesday July 18 at Centennial Park!
Sincerely,
William Cunningham
Santa Ana Police Foundation
bill@sapdf.org
714-972-0200