ORANGE, Calif. (April 4, 2023) — CalOptima Health, in partnership with the City of Garden Grove and Healthcare in Action, launched Orange County's first street medicine program on April 1 to deliver comprehensive health care to individuals experiencing homelessness.
This partnership with Healthcare in Action, a first-of-its-kind medical group that provides health care and other services to unhoused individuals through a street medicine model, demonstrates CalOptima Health's ongoing commitment to providing access, improving health outcomes and building relationships that result in secure housing for unhoused Orange County residents.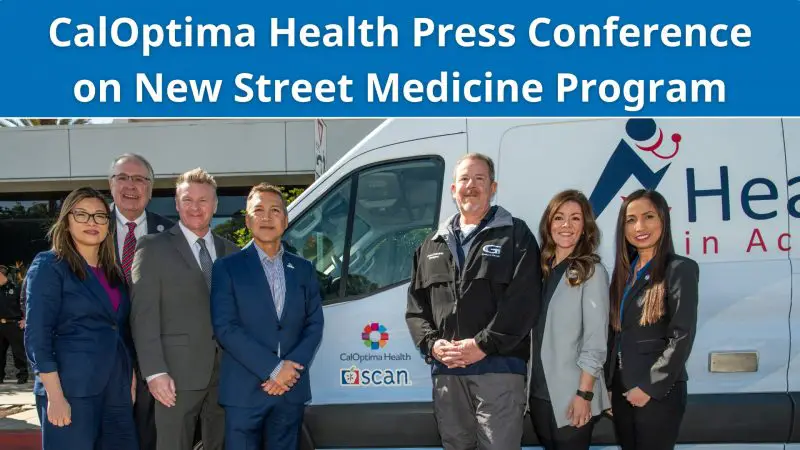 As Orange County's Medi-Cal plan serving low-income populations, CalOptima Health pursued the program based on the recognition that housing is health. Through a contract, Healthcare in Action will deliver primary care to up to 200 CalOptima Health members using a medical van to canvas the Garden Grove community and reach members living in parks, under freeways and other unsheltered spaces. Services will include primary care, behavioral health and case management but also the expanded whole-person care resources now available through CalAIM, a state initiative offering a new set of Medi-Cal benefits that includes housing services.
"As Supervisor for the Second District and a CalOptima Health Board member, I am happy to see the launch of the first-of-its-kind street medicine program in our county, offering personalized medical care to vulnerable and hard-to-reach community members," said Supervisor Vicente Sarmiento. "This program stands out for its emphasis on a comprehensive patient-centered approach, which involves meeting individuals at their specific location, addressing all aspects of their well-being and enhancing their quality of life."
"CalOptima Health street medicine is different than other programs," said Kelly Bruno-Nelson, Executive Director, Medi-Cal/CalAIM. "Members are assigned to Healthcare in Action's providers and can rely on them just like other patients do with their doctors in 'brick-and-mortar' locations. We want to foster long-term connections and trust that lead to ongoing medical care and expanded social support. This is not just urgent care on the streets — it's so much more."
In November 2022, CalOptima Health's Board of Directors approved the selection of Healthcare in Action based on its experience, capacity, and ability to launch the street medicine program in the desired timeframe. Funding of $4 million will support operations for two years, and the unique managed care model will then be sustained after the initial two years through State Medi-Cal reimbursement. The program is the latest in a longstanding effort by CalOptima Health's Board to provide funding and innovations that address local homeless health needs. In March 2023, the Board awarded $29.9 million in community grants to organizations serving the population, with $21 million going toward 400 permanent supportive housing units. CalOptima Health's overarching goal is to reduce health disparities across the county.
"Healthcare in Action is proud to partner with CalOptima Health and support their commitment to unhoused members," said Michael Hochman, M.D., CEO of Healthcare in Action. "Since our inception in 2022, we have seen the success of approaching the homelessness crisis through the lens of health care. Through our unique 'street based' model, we are able to provide sustainable, primary care addressing the complex medical and social needs of this population, and we look forward to bringing that to individuals in the City of Garden Grove."
The Garden Grove program will deploy two teams that do complementary work. A medical team with a physician assistant and registered nurse will provide primary care and clinical management, and a peer navigator team with two staff who have lived experience will offer supportive services and community resources.
"Garden Grove is proud to be the first Orange County city to provide this very unique medical outreach program to our homeless community, in partnership with CalOptima Health and Healthcare in Action," said Garden Grove Mayor Steve Jones. "Our street medicine program complements a number of other programs Garden Grove has proactively implemented, and will continue doing, to achieve beneficial solutions to homelessness."
About CalOptima Health
A county-organized health system, CalOptima Health provides publicly funded health care coverage for low-income children, adults, seniors, and people with disabilities in Orange County, California. CalOptima Health's mission is to serve member health with excellence and dignity, respecting the value and needs of each person. CalOptima Health serves nearly 977,000 members with a network of more than 9,400 primary care doctors and specialists and 45 acute and rehab hospitals. For more information, visit www.caloptima.org.
About Healthcare in Action
Healthcare in Action (HIA) is a new medical group that combines managed care with "street medicine," providing health care services to people where they are. To date, HIA's interdisciplinary mobile teams serve more than 1,000 patients in six counties across Northern and Southern California. Healthcare in Action was launched in 2022 by the SCAN Group, a mission-driven organization that is tackling some of the biggest issues in health care for older adults. Since 2020, SCAN has launched three mission-aligned medical groups, including Healthcare in Action, Welcome Health and MyPlace Health (a joint venture with CCA), each of which focuses on meeting the needs of older adults. Additionally, in 2022 SCAN acquired The Residentialist Group, now known as HomeBase Medical, to support chronic disease management and palliative care for older adults in the home. SCAN Health Plan, which is part of SCAN Group, is one of the nation's foremost not-for-profit Medicare Advantage plans, serving more than 285,000 members in California, Arizona, Nevada and Texas. For more information, visit HealthcareInAction.org and TheSCANGroup.org.