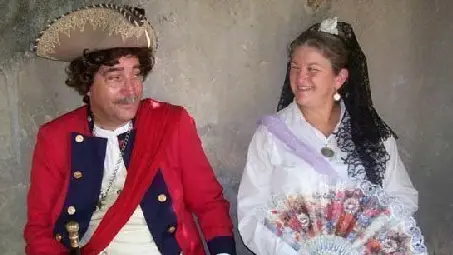 This Sunday, on November 14, celebrate California Heritage Day, a significant event in the history of California, the signing of the 1849 California Constitution, the only bilingual Constitution in the country.  The event will take place at Santa Ana's Heritage Museum of Orange County, from 10 am to 4 pm.
This event commemorates the coming together of all the people who built the great State of California and celebrates the cultural diversity in Orange County and the State of California.
At this exciting event you will experience historic characters who lived in California during that period of history. Hear historical information about the original signers of the Constitution. Experience the culture as it existed at that time. Meet living descendents of the original settlers of Orange County.
There will be food, music, dance, storytellers, re-enactors. Hear old Spanish songs of the time. Talk to Fr. Serra about the DeAnza Expedition into Alta California. Meet the wife of Jose Antonio Yorba and daughter of Don Juan Pablo Grijalva, Maria Josefa Grijalva Yorba. Talk to members of the Native American Tribes. These historical characters and more will share with you the history of the time.
Vendors will be displaying interesting wares and artifacts for sale.
2 P.M. RE-ENACTMENT OF THE SIGNING OF THE CALIFORNIA CONSTITUTION
COME LIVE THE LEGEND THAT HAS BECOME CALIFORNIA.  DON'T MISS THIS EXCITING ORANGE COUNTY EVENT.  Click here to download the event flyer.
For further information about "California Heritage Day," please contact the Heritage Museum of Orange County at 714.540.0404 or log on to www.heritagemuseumoc.org.
Heritage Museum of Orange County is located at 3101 West Harvard Street, Santa Ana, CA 92704.