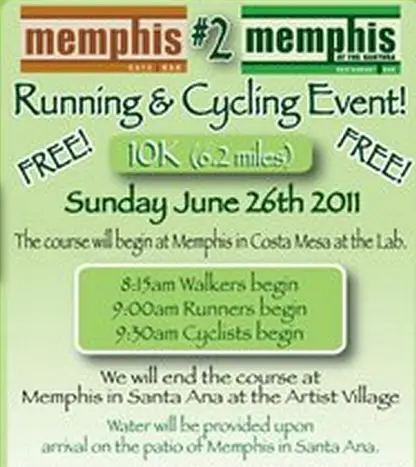 Memphis to Memphis is a running/walking/bicycling event for everyone!
Sunday, June 26 · 8:00am – 11:00am.  Location: Memphis Cafe and Bar (Costa Mesa) to Memphis at the Santora (Santa Ana).
Two years ago 30+ neighbors and friends got together on a Sunday morning to run and bike from Memphis in Costa Mesa to Memphis in Santa Ana. We had a great time getting to know each other and our neighborhood WHILE EXERCISING! We want to do it again WITH YOU!
From Memphis in Costa Mesa we travel down Bristol Ave until we arrive at the Bike Path. The Bike Path takes us through neighborhoods in Santa Ana, ending at Chestnut Ave. Chestnut Ave takes us to Broadway and Broadway takes us to Memphis at the Santora!!! Water will be provided on the patio at Memphis when we arrive. We encourage everyone to join us for the Memphis Sunday Brunch (starts at 10:00am) following the event. At which time we will be conducting a raffle for all those that participate!
Walkers begin at 8:15am
Runners begin at 9:00am
Cyclists begin at 9:30am
THIS IS NOT A RACE. This is not an official 10k run/bike event. NO streets will be blocked off. But at least it's FREE!
It will be HOT! Wear appropriate exercising apparal and bring WATER!
Please be mindful of other particpants and follow all street laws and regulations for your safety and the safety of others.
If you are interested in WALKING this event please contact me at this page or my personal facebook page. Walkers will need to start earlier than runners and cyclist.
PLEASE RSVP FOR THIS EVENT!
Hope to see you there!