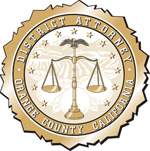 ORANGE COUNTY DISTRICT ATTORNEY PRESS RELEASE
Date: November 18, 2014
AT-RISK STUDENTS EARN OVER $25,000 IN TURKEY DINNERS IN 5TH ANNUAL THANKSGIVING GANG PREVENTION INCENTIVE
SANTA ANA – Turkey dinners will be awarded tomorrow, Wednesday, Nov. 19, 2014, to 855 at-risk students who succeeded in the Orange County Gang Reduction Intervention Partnership's (OC GRIP) 5th annual Thanksgiving challenge to improve student attendance, behavior, and grades.
The dinners will include a full Thanksgiving dinner, complete with side dishes, to feed a family of 10 and will be delivered to participating OC GRIP schools for the successful students and their families to pick up on Wednesday, Nov. 19, 2014, starting at 4:00 p.m. Orange County District Attorney (OCDA) Tony Rackauckas will be at Viejo Elementary in Mission Viejo to personally greet the students and their families. Media interested in attending may contact the OCDA Public Affairs Unit at (714) 347-8408.
Ralphs/Food 4 Less and Saddleback Church donated over 850 turkey dinners this year, compared to 400 in previous years, as part of the ongoing OC GRIP gang prevention effort to keep kids in school and out of gangs. The total donation is valued at over $25,000. OC GRIP extended the incentive to students at 50 schools across Orange County this year compared to the previously-participating 43 schools.
"I am truly grateful for the generosity of Ralphs/Food 4 Less and Saddleback Church for bringing Thanksgiving to so many deserving children and their families," said OCDA Tony Rackauckas. "I am absolutely thrilled for the opportunity these students have to do something good for their families and praise them for learning that there are rewards for good behavior."
"Ralphs and Food 4 Less are proud to support a program that benefits families, the community at large and keeps our children safe," said Kendra Doyel, Community Affairs Senior Manager for Ralphs/Food 4 Less. "Our donation to this program is one of the many ways that Ralphs and Food 4 Less contributes to the communities where we work and live.  We look forward to seeing the smiling faces of the children who worked so hard to earn this reward for their family when those meals are delivered."
Gang Prevention Incentive Details
At the beginning of the 2014-2015 school year, over 1,000 students from 50 OC GRIP elementary and middle schools were invited to earn a Thanksgiving turkey dinner for their families by succeeding in a gang prevention challenge. The terms of the challenge were determined by each school and included no participation in gang activity or wearing gang clothing, no disciplinary action, perfect attendance, and improved grades. All of the 1,000 students are in grades four through eight and were individually identified by their respective schools as being the most at-risk of joining a criminal street gang. OC GRIP does not work with documented gang members, who were ineligible to participate.
Approximately 855 students successfully completed the challenge and earned turkey dinners, with side dishes, to feed a family of up to 10 people. All of the dinners were donated by Ralphs/Food 4 Less and Saddleback Church.
The turkey dinners will be distributed at the OC GRIP schools Wednesday, Nov. 19, 2014, at 4:00 p.m. by deputy district attorneys, police officers, deputies, investigators, probation officers, and staff from all of the OC GRIP agencies.
The OC GRIP Thanksgiving incentive will be run by Orange County law enforcement agencies including the OCDA, Orange County Probation Department, Orange County Sheriff's Department in the Cities of Dana Point, Laguna Hills, Lake Forest, Mission Viejo, San Clemente, San Juan Capistrano, Stanton, and unincorporated areas of North Orange County, Buena Park Police Department, Costa Mesa Police Department, Fullerton Police Department, Garden Grove Police Department, Orange Police Department, Santa Ana Police Department, Tustin Police Department, and has over 500 community partners.
###
TONY RACKAUCKAS, District Attorney
Susan Kang Schroeder, Chief of Staff
Office: 714-347-8408
Cell: 714-292-2718