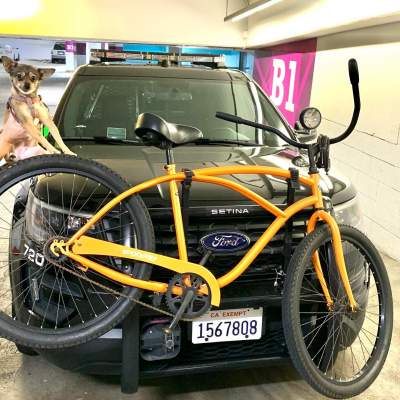 Yesterday afternoon, a resident called the Costa Mesa Police dispatch to report that her bike had just been stolen from the 100 block of E. 18th Street.
She immediately jumped into her car along with her canine companion, Harper, in search of her orange beach cruiser.
She located her bicycle being ridden by a man in the 1800 block of Harbor Boulevard and let the police know. The Community Policing Unit (CPU) sergeant responded to the area and stopped the subject on the beach cruiser as CPU officers arrived to the scene on their bicycles.
The suspect was promptly arrested and the victim's bicycle was returned to her.
The victim and Harper, pictured here, were so happy to have their bike back!
Unfortunately, the subject had taken off Harper's doggy basket, which was not located at the time of his arrest.