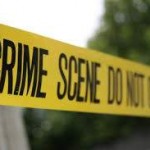 An unidentified man suspected of burglary and outstanding warrants barricaded himself in an apartment for five hours on Monday before officers went into his home to get him out, according to the O.C. Register.
The incident began at about 1:30 p.m. at the 1900 block of Civic Center Drive, when police and probation officials went to the man's apartment to serve him with a warrant regarding weapons and narcotics probation violations, according to the SAPD.
The man refused to come out of his apartment.
SAPD police officers finally entered the apartment at about 6:30 p.m. and arrested the man, according to the SAPD.
There were no reports of any injuries.