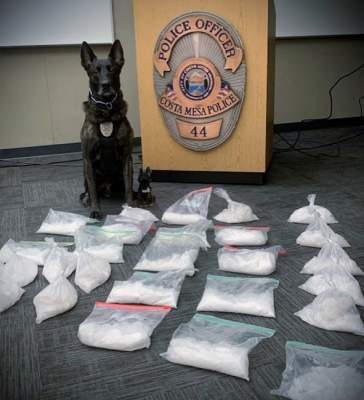 On Friday evening, a Costa Mesa Police Department motor officer observed a vehicle speeding. The officer stopped the vehicle and contacted the driver.
The officer observed an open alcoholic beverage container in the vehicle and began a DUI investigation.
While the officer was conducting the DUI investigation, the CMPD K9 unit arrived to assist. K9 Bodi conducted a free-air sniff around the vehicle and alerted to the presence of illegal narcotics in the vehicle.
Officers conducted a search of the vehicle and discovered 27 pounds of methamphetamine and large quantity of cash.
CMPD detectives were notified and obtained a search warrant for the residences of the driver and passenger. Detectives located an additional kilogram of cocaine, 1000 fentanyl pills, and 40 pounds of marijuana.
Jorge Osuna-Romero, 26, of La Habra, and Ulixes Flores, 26, of La Habra Heights were arrested. They are being held in an Orange County jail on $2 million bail.
Osuna-Romero, a cook, faces felony counts of possession of a controlled substance with intent to sell and for the sale or transport of a controlled substance with felony enhancements for each involving methamphetamine in excess of 25 pounds. Flores, an electrician, was also being held on $2-million bail in the same facility.