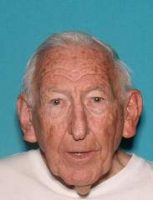 Santa Ana Police Department
Advisory: UPDATE – Critical Missing Adult Male Has Been Located
On 8-2-2018, at approximately 4:00 pm, SAPD Missing Persons Detectives were contacted by Orange County Sheriff's Department personnel regarding the discovery of a deceased elderly male believed to be the Missing Person from our city. The decedent, David James Wood, was reported missing on 7/31/2018 at approximately 6:00 pm.
On 8-2-2018 at approximately 02:27 pm, OCSD communications received a call from a citizen who was off-roading in the Cleveland National Forest and informed them he had located the deceased male. Personnel from the Orange County Sheriff's and Coroner's Office responded to the scene to handle the investigation, there is no indication of foul play.
– ORIGINAL MESSAGE –
Missing Person: David James Wood (87) Santa Ana
Description: Male, Caucasian, 5'10", 150lbs., white hair and gray eyes
Last seen wearing: White t-shirt, tan pants and reading glasses
Vehicle: 2004 Tan 4-door Toyota Camry, license plate# 5JIC555
Location: last seen in the area of the 400 block of South Cooper Street, Santa Ana
Synopsis:
On July 31, 2018, at approximately 9:15 am, missing person David James Wood was last seen leaving his residence driving his vehicle (description stated above) to a medical appointment at St. Joseph's Hospital. Medical officials later advised that he never made it to his appointment. Wood is believed to have his wallet, driver's license and cash with him. He does not have a cell phone on him and is experiencing the onset of Dementia. He can communicate his name, address and other pertinent general information.
Those with additional information are asked to contact Detective A. Garcia at (714) 245-8408 or email agarcia3@santa-ana.org.