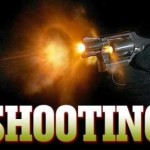 A man was shot in the head in Santa Ana late Sunday, Feb. 23, at the 1700 block of West Hall Avenue.
The incident happened just past 11 p.m. according to the O.C. Register, just north of Carl Thornton Park.
Responding SAPD police officers found the victim suffering from a single gunshot wound, inside a vehicle.
The unidentified male victim was rushed to a hospital for treatment, Alvarez said. He had stable vital signs.
The SAPD has not released any information about a suspect in this shooting.