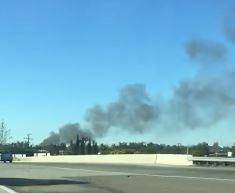 We reported a fire yesterday near 17th and Santiago. It turned out to be a residential fire at a home located at the 1800 block of Poinsettia, that started at about 2:35 p.m., according to the O.C. Register.
A total of 24 OCFA firefighters were able to put out the fire by 2:55 p.m.
No injuries were reported.
The cause of the fire is under investigation.
This time of year there are many fires due to:
using chimneys that have not been properly cleaned or inspected
using candles
and overloading electrical circuits with Christmas lights
Take a few moments to check out your house to make sure you have done everything possible to prevent a fire!