All of the candidates for Santa Ana's Ward 4 are Democrats except for Bishop Gale Oliver Jr., who is an independent. Special Elections are generally low turnout affairs. Democrats in Santa Ana are infamous for not voting in such elections. So who has the edge this time around?
There are no Republicans in this race. That figures as only 22.6% of Santa Ana's voters are Republicans. They have no pull in our city any more.
But the Democrats don't quite have total control yet either as only 53.4% of the voters are from the blue party. The rest of the voters, 20.6%, are Decline to State or third party voters.
So if the Democrats don't bother to vote the Independent and GOP voters could prevail – if they get behind one candidate.
The race for Ward 4 however is a crowded affair. Here is how the candidates break down: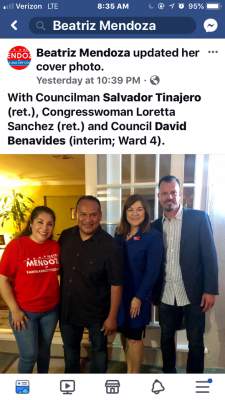 I expect that Mendoza and Escamilla are going to split the liberal votes – hurting both of them. Mendoza and Oliva will also split many of the woman votes. Mendoza also appears to be the candidate favored by the pro-Reyna faction. I don't think it is a positive thing to be associated in any way with Reyna, who may still end up getting prosecuted by the OCDA for his campaign shenanigans.
Councilwoman Ceci Iglesias believes that Bishop Gale Jr. will prevail because of the vote splits. However the voters don't know who he is so that seems like a tall order. Iglesias does run a great ground game however. She will also promote Gale Jr. at area churches. That is how she got elected to the City Council in the last election. She too benefited from a vote split when her two Democratic opponents knocked each other out.
Bacerra however has several huge advantages:
He got over 23,000 votes last November! If the same voters turnout for him again the race is over.
His opponent in the 2018 election, Roman Reyna, got over 29,000 votes but those will now be split among several opponents.
Bacerra already has campaign signs up in town and he is advertising here on this blog. His opponents? Asleep at the wheel.
He is immensely popular in north Santa Ana as he has taken a stand against an apartment development that has upset many residents.
Yes it is true that Bacerra was attacked last year by an ex-girlfriend who alleged that he abused her but she has since been generally discredited and the FPPC is investigating who funded the attack video she was featured in. On a personal note I knew them when they were dating and never saw him act rudely towards her. She is also allied with the most extreme liberals in Santa Ana. And it was fairly obvious that her attack was designed to help Bacerra's opponent, Reyna.
Bacerra also has the support of the last African American City Council Member to hold office in Santa Ana – Alberta Christy, who was also a major figure in the OC GOP.
If I was a betting man I would say that Bacerra is going to win this race easily. And when the local Democrats endorse one of his opponents it will backfire as that party will only back a candidate who supports distribution of drug needles in our city. Reyna did. So will the next candidate the O.C. Democrats endorse. That won't fly with most voters in our city.
Why would we support a candidate who wants to hand out drug needles to the addicted homeless mob in our city? The Democratic Party endorsement will as such be the kiss of death!