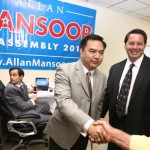 Picture of Mexican-bashers Van Tran and Allan Mansoor courtesy of the L.A. Times
Republican congressional candidate Van Tran has been quite sneaky this year about his views on immigration.  But he finally came clean during an interview with the O.C. Register that was published today.  He "aid he supports Arizona's right to attempt to crack down on illegal immigration."
Tran flew to the border a few years ago with a host of his Trannies, to make fun of Mexico and the border situation.  I was deeply offended considering that he and most of them are also immigrants, but unlike Mexicans these haters got a red carpet welcome to the United States, after the fall of Vietnam.
Congresswoman Loretta Sanchez, who Tran is challenging also was interviewed.  Here is what she had to say about immigration:
Sanchez said the federal government should do a better job of controlling its borders and knowing who is coming in and out. She also said there should be more visas made available for immigrants coming here to work.

She said she would support a program for illegal immigrants to apply for citizenship if they learn English and pay a fine. "People should have the right to earn their way in," she said.
Clearly she is much better on immigration than Tran.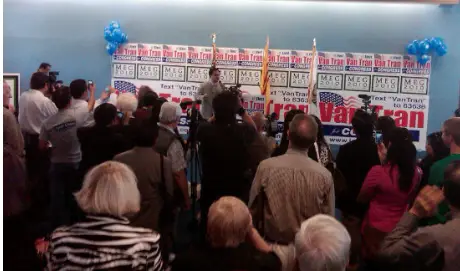 No Latinos showed up to Van Tran's grand opening on Labor Day
But will Sanchez prevail?  Many Democrats aren't so sure about that.  I spoke to a number of Democratic elected officials and candidates yesterday, at the O.C. Labor Day event at the Santa Ana Zoo.  Many expressed concern about Sanchez's chances of reelection.
The problem is that an independent Latina, Cecilia Iglesias, was able to get on the ballot, after collecting 11,ooo signatures.  One elected official said that the way she collected the signatures was interesting.  At first she only was collecting a handful per day, then all of a sudden she was turning in thousands of signatures, he said.  It looked like someone had paid to collect the signatures.  Did Tran and the OC GOP pave the way for Iglesias by collecting signatures for her?
There are also rumors that Iglesias' campaign materials are being walked by Tran's volunteers.
And then there is the recent video that Iglesias posted, of Ronald Reagan talking about a suspect election in El Salvador, which our blogger Gabriel San Roman posted about here.  Iglesias is from El Salvador.  There are a lot of Latino Republicans of Salvadorean extraction.
Another Democratic insider told me that over the past few years she has consistently requested Republican ballots from the O.C. Voter Registrar, even though she is registered as a Decline to State voter.
I have not confirmed any of this, but it is worrisome.  Tran is disgusting and corrupt.  We must stop him from getting to Congress.
I have had my issues over the years with Sanchez, but we all need to set aside such trepidation and get behind her.  Tran must be stopped!