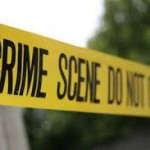 Santa Ana Police Department
Advisory: UPDATE – Suspect/Decedent Identified
Suspect/Decedent identified as Terrall Magee (53) transient.
– ORIGINAL MESSAGE –
SAPD Investigating In-Custody Death
Suspect/Decedent: John Doe
On Sunday, March 11, 2018, at 9:17 PM, Santa Ana Police officers responded to reports of a burglary alarm at 2411 West 1st Street. An employee of the business (K-V Engineering) was remotely monitoring the location via surveillance system. The employee reported to police that an unknown male was on the property. The first officer on scene observed a male jumping a fence out of the property and on to the sidewalk of West 1st Street. The suspected burglar ran from the officer prompting a foot pursuit. The officer caught up to the suspect at the entrance to a nearby business and a physical altercation ensued.
Additional officers arrived to assist. Officers used force to overcome the suspect's resistance. Once subdued, the suspect went into medical distress. Officers performed CPR while awaiting paramedics. Orange County Fire Authority paramedics arrived on scene, treated, and transported the suspect to a local regional hospital. Doctors declared the suspect deceased at 10:10 PM.
The cause of death is pending investigation by the Orange County Coroner's Office. The suspect's identity is also pending verification by the Coroner's Office. The Orange County District Attorney's Office and the Santa Ana Homicide Unit are investigating.