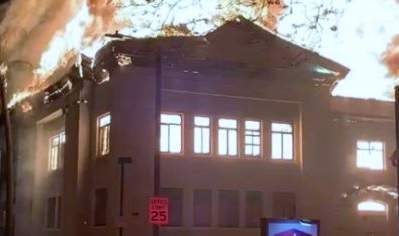 Santa Ana, CA – May 13, 2020 – A four-alarm fire in the City of Santa Ana on Thursday, May 7, deemed arson, remains under investigation by Orange County Fire Authority and Santa Ana Police. Since the abandoned building, a former United Presbyterian church, was known to be frequented by transients, it was determined that a thorough search for any possible victims was needed.
Due to the extensive damage to the three-story building, the Orange County Fire Authority (OCFA) Type IV Urban Search and Rescue Task Force was deployed to help stabilize the structure and search through the rubble to ensure no one perished in the fire. The highly trained team utilized heavy equipment and rigging to remove large structural members and sections of the floor. During the three days of clearing, OCFA human remains detection canines continued to work the scene, in conjunction with Santa Ana Police Department (SAPD), and the Orange County Sheriff's Coroner's office.
Following an exhaustive search, it has been concluded that no one was lost in the fire.
In addition, fortunately, none of the 100 firefighters who battled this blaze in the 100 block of Santa Ana Boulevard that was reported at 2:27 a.m. was injured.
OCFA and SAPD investigators are continuing to work to identify the arson suspect(s) and make an arrest.