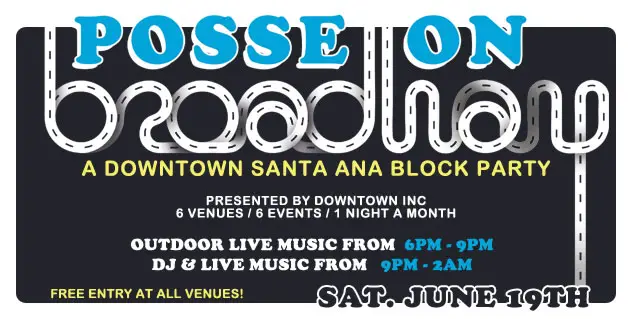 Downtown Inc. Presents Posse on Broadway: A Downtown Santa Ana Block Party
6 venues, 6 events, every third Saturday of the summer
Saturday, July 17, 2010, Downtown Inc. of Downtown Santa Ana PresentsPosse on Broadway, sponsored by KCRW, LA Record and OC Weekly.
Now in its third annual year, Posse on Broadway brings live music and top DJ's to the streets and venues of Downtown Santa Ana. A block party featuring 6 venues, 6 events, every 3rd Saturday of the summer, on July 17 and August 21.
What a night we have planned for this Saturday. Starting with a free live concert from 7-10pm on the 2nd Street Promenade and dove-tailing into an all night party of food, song, drinks and dancing ranging all over the entertainment district of Downtown Santa Ana. Many venues, lots of amazing talent, and plenty of fun to be had. Don't miss our headliners the "Beat Ventriloquists" sure to bring it all. Your hosts Monotone and PWA will be in the house keeping the party going till the wee hours. Last call.