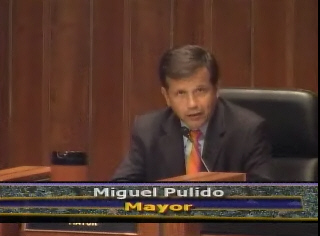 While failed Santa Ana mayoral candidate Alfredo Amezcua and about 15 of his unhappy followers froze outside, the Santa Ana City Council Members and Mayor Miguel Pulido were sworn in on Tuesday evening.  Later on they convened at the Bowers Museum for more festivities.
For Council Member Michele Martinez the evening was special.  She asked Jeff Bishop, an administrator at the SAUSD, to swear her in.  Some years ago he decided to work with her rather than expel her from Santa Ana High School.  As we all now know, his decision directly led her to where she is today.  Martinez wrote about this on her blog, where she also mentioned her mother, who recently passed away.
Pulido laid out a list of priorities that included more jobs, a mass-transit line through downtown, more street trees and a renewed focus on health. He described Santa Ana as a "magical place."  "At the end of the day," he said, "if things are working well, you're seeing good results, then we're doing our jobs," according to the O.C. Register.
Congratulations to all the Council Members and to Mayor Pulido.  Kudos to Pulido for keeping his message positive.  What a contrast between his message and Amezcua's "discontented vigil."
I look forward to working with our City Council to find ways to better ways to serve the public.