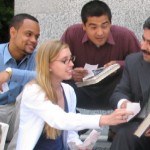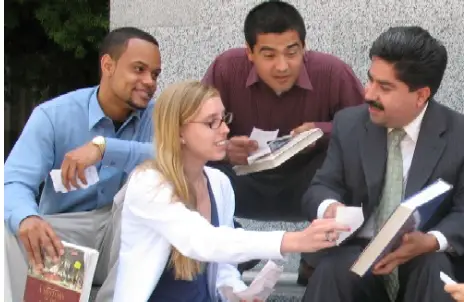 FILE: Students show Assemblyman Solorio their college bookstore receipts as proof that textbooks are too expensive.
For Immediate Release: August 20, 2010
For More Information Contact: Carol Chamberlain – Office: (916) 319-2069, Cell: (916) 804-5355
Solorio Bill to Curtail the High Price of Community College Textbooks Goes to Governor
College Students Urged to Call the Governor's Office
SACRAMENTO, CA – AB 2203, authored by Assemblyman Jose Solorio (D-Anaheim), received overwhelming bipartisan support in the California Legislature this week, and is now on its way to the Governor. For the approximately three million, cash-strapped community college students in California, that's good news, as textbook cost relief may be on the way.
AB 2203 requires the California State University (CSU), and requests the University of California Regents (UC) to review their transfer policies to ensure that textbooks selected at the community college level can be used for as long as the information contained is current.
"Textbooks that may cost $100 at the beginning of the semester are sometimes worth very little by the end of the semester because a book turns six-years old," Assemblyman Solorio says. "As textbook prices continue to skyrocket, students need all the help they can get. This legislation will extend the value of a textbook, and therefore extend a student's opportunity to sell it at a good price or trade it in."
Assemblyman Solorio is encouraging community college students and their parents to call the Governor at 916-445-2841, or email him at www.gov.ca.gov/interact and ask him to sign AB 2203.
"I am encouraged by the rapid progress of digital textbooks and the many online options becoming available to buy new and used books," Solorio says. "But this legislation will help students now. I hope the Governor sees the urgency in this measure and signs it into law."
Assemblyman Solorio has a record of accomplishment as an advocate for reducing the rising costs of textbooks. In 2007, he authored the College Textbook Transparency Act. The law requires publishers, college bookstores and professors to disclose more cost information to students and keep book affordability in mind.
State Assemblyman Jose Solorio is the Chair of the Assembly Insurance Committee and serves on the Assembly Appropriations, Local Government and Transportation Committees. He represents the Sixty-Ninth Assembly District, which includes the cities of Anaheim, Garden Grove, and Santa Ana. For more information about Assemblyman Solorio, visit www.assembly.ca.gov/solorio.
________________________________________
Capitol Office: State Capitol, P.O. Box 942849 • Sacramento, CA 94249-0069
Phone: (916) 319-2069 • Fax:(916) 319-2169
District Office: 2400 East Katella Avenue, Suite 640 • Anaheim, CA 92806
Phone: (714) 939-8469 • Fax:(714) 939-8986
E-Mail: Assemblymember.Solorio@assembly.ca.gov
Web Site: www.assembly.ca.gov/solorio