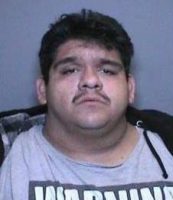 CAR BURGLAR ARRESTED

On November 21, 2016, a vehicle burglary occurred at 17200 Newhope Street in Fountain Valley. During the incident, the vehicle's right front passenger window was smashed and a purse and wallet was taken. The crime was captured on video surveillance and a license plate was obtained on the suspect vehicle, a green 2011 Scion sedan. Video surveillance also captured the suspect using the victim's credit cards at various locations in Santa Ana.

On November 26, 2016, a vehicle burglary occurred at an apartment complex located on the 10300 block of Slater Avenue in Fountain Valley. The suspect entered the vehicle by smashing a window and fled after taking music CDs. A security guard, who was working at the location, heard glass breaking and went to investigate. The security guard was able to write down the suspect's license plate as he drove away. The license plate and vehicle description matched the vehicle used in the first incident.

On November 29, 2016, Fountain Valley Police detectives located the vehicle in a residential tract in Santa Ana. Ricardo Perea Aguirre (26) from Santa Ana, was contacted at the residence. He subsequently confessed to both crimes, and the stolen CDs were recovered. Aguirre was arrested for burglary and was booked into the Orange County Jail where he is being held on $20,000 bail. (FVPD 16-47329, 16-47886).