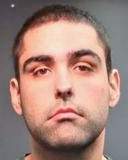 Santa Ana Police Department
Advisory: SAPD Detectives Seek Additional Victims In Arrest Of Loan Officer
Arrested Maxwell Hernandez (24) Corona
Details: In January of 2015, the victim started negotiating with RFG Services, 1500 Block of East 4th Street, Santa Ana, to refinance his home. Maxwell Hernandez, 25, of Corona, was the loan officer working with the victim. As is customary with refinancing, the victim provided Hernandez with the personal information required to complete the loan application.
The victim and Hernandez shortly became friends, prompting the victim to allow Hernandez to borrow his vehicle for the weekend. When Hernandez returned the vehicle, the victim found paperwork in the vehicle left behind by Hernandez. The victim found recent purchase contracts for a Harley Davidson motorcycle valued at $32,000 and documents to a Toyota 4Runner, valued at $47,000 in his vehicle. The paperwork listed both the Harley Davidson and Toyota as belonging to the victim. The victim did not purchase these items, and contacted the Santa Ana Police Department.
On May 11, 2016, Santa Ana Police Detectives arrested Maxwell Hernandez as he attempted to pick up the 4Runner after being serviced. The Harley Davidson has not been recovered.
Hernandez purchased both the Harley Davidson and Toyota in the victim's name and without the victim's permission.
Hernandez was booked for PC 530.5 (a) Identity Theft and PC 487 (d)(1) Grand Theft Auto.
Because of Maxwell Hernandez' position as a loan officer and access to personal records, Santa Ana Police Detectives believe there may be additional victims. Detectives are asking the public to check their credit report if they have used Hernandez for any financial transactions. Members of the public, who have been a victim of identity theft involving Maxell Hernandez, are asked to call Corporal Shannon Rackley at 714-245-8431.