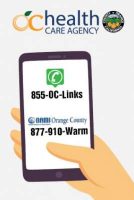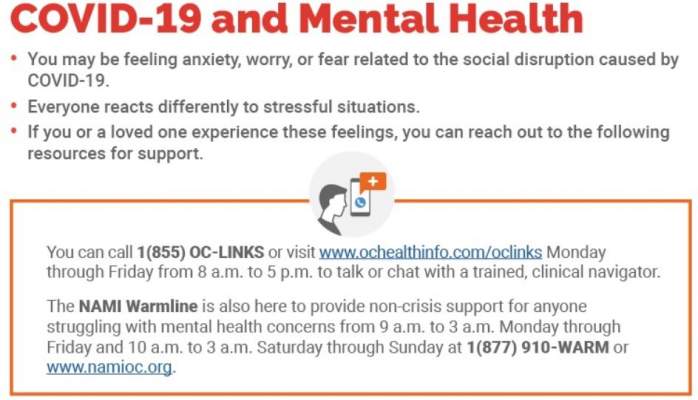 The outbreak of 2019 (COVID-19) has been stressful for many people. It is natural to feel stress, anxiety, grief and worry about the virus. Fear and anxiety about a disease can be overwhelming and cause strong emotions in adults and children. Coping with stress will make you, the people you care about, and your community stronger.
When you share accurate information about COVID-19, you can help make people feel less stressed and allows you to connect with them. Understanding the actual risk to yourself and others can make an outbreak less stressful.
If you or a loved one experiences stressful feelings, you can reach out to the following resources for support:
• Call 1(855) OC-LINKS Monday through Friday from 8 a.m. to 5 p.m. to talk or chat with a trained, clinical navigator or visit https://occovid19.ochealthinfo.com/guidelines#MentalHealth
• The NAMI Warmline is also available to provide non-crisis support for anyone struggling with mental health concerns from 9 a.m.to 3 a.m. Monday through Friday and 10 a.m. to 3 a.m. Saturday through Sunday at 1(877) 910-WARM or www.namioc.org.
###
El brote de 2019 (COVID-19) ha sido estresante para muchas personas. Es natural sentir estrés, ansiedad, dolor y preocupación por el virus. El miedo y la ansiedad por una enfermedad pueden ser abrumadores y causar emociones fuertes en adultos y niños. Hacer frente al estrés harán que usted, las personas que te importan, y su comunidad, sean más fuertes.
Cuando comparte información precisa sobre COVID-19, puede ayudar a que las personas se sientan menos estresadas y le permita conectarse con ellos. Comprender el riesgo real para usted y los demás puede hacer que un brote sea menos estresante.
Si usted o un ser querido están pasando por sentimientos de estrés, puede comunicarse con los siguientes recursos para obtener apoyo:
• Llame al 1(855) OC-LINKS de lunes a viernes de 8 a.m. a 5 p.m. para hablar o chalar con un navegador clínico capacitado o visita https://occovid19.ochealthinfo.com/guidelines#MentalHealth
• La Línea NAMI Warmline también está disponible para brindar apoyo, no de crisis, a cualquier persona que tenga problemas de salud mental de 9 a.m.to 3 a.m. de lunes a viernes y de 10 a.m. a 3 a.m. de sábado a domingo al 1(877) 910-WARM o visita www.namioc.org.