***FOR IMMEDIATE RELEASE***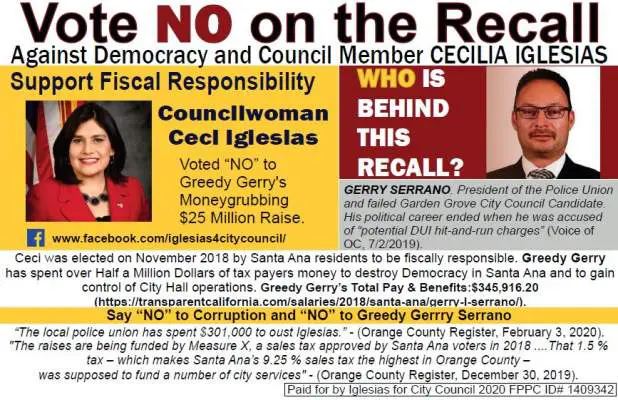 Contact: Reginald Durant, Executive Director, Back to Natives Restoration, (949) 509-4787
Isn't it time for Santa Ana to have a voice on the O.C. Board of Supervisors?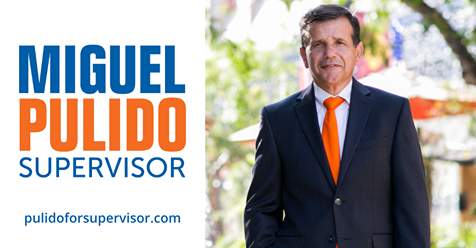 Paid for by Miguel A. Pulido for Supervisor 2020 (ID #1422663)
BACK TO NATIVES TO HOST NATIVE PLANT FOOD & MEDICINE WORKSHOP
Advertisement
Is your employer a mess? Call Sasooness.
In the state of California for every 5 hours worked an employee must get a 30 minute, uninterrupted lunch break. For every 3 hours worked an employee must get an uninterrupted 10-minute rest break. Working over 8 hours in a day or 40 hours in a week is due overtime. Don't let your employer screw you! Give us a call at 323 746-8099.
En el estado de California por cada 5 horas de trabajo su patrón le debe permitir tener un receso de media hora sin interrupciones. Si trabaja más de 8 horas en un día o más de 40 horas de trabajo en una semana su patrón le debe pagar tiempo y medio. No deje que su patrón abuse de su trabajo. No importa que no tenga papeles. Usted tiene derechos. Llamenos al 323 746-8099.
Craig Torres, descendant of the indigenous Tongva, will demonstrate methods for using California's native rose
SANTA ANA, Calif., March 4, 2014 – Back to Natives Restoration, a 501 (c)(3) nonprofit public charity, is hosting a native plant food and medicine workshop on March 22nd from 10 AM-12 PM. Craig Torres, a descendant of the Native American Tongva people who inhabited the Los Angeles Basin, will share his knowledge by demonstrating his methods for using native plants as food and natural remedies. Register and prepay at backtonatives.org,
During this workshop, Torres will focus on ways to use rose hips, the fruit of the native California wild rose (Rosa californica), as a remedy for sore throats, tired eyes, and common cold symptoms. Torres will demonstrate how to make raw rose hip jam using only rose hips and one other ingredient. Jam-packed with antioxidants like vitamin C, vitamin E, and lycopene, this native fruit mixture will help reduce inflammation and smooth rough skin. Torres will also demonstrate making rose petal and rose hip tea using reusable, recyclable tea bags. This workshop will illustrate how gardeners can obtain healthy remedies from native gardens.
"For thousands of years, the indigenous people of the Los Angeles Basin relied on native plants for food, clothing, shelter, and medicine to support their health," said Craig Torres. "These days, however, many of us are out of tune with our natural, native habitat and we rely on synthetic supplements to support our health. Learning how to use native plants as food and medicine allows us to reconnect with nature the way my Native American ancestors did."
Back to Natives' Food & Medicine workshop will be held on March 22nd from 10AM – 12PM at the Back to Natives Nursery at Santiago Park, located near 600 E. Memory Lane in Santa Ana. Register and prepay at backtonatives.org.
About Back to Natives
Back to Natives Restoration, a 501(c)(3) nonprofit organization, is dedicated to the restoration and conservation of Orange County and California wild lands, though education and restoration programs featuring native plants as a centralizing theme. For more information, please visit www.backtonatives.org or call 949-509-4787.
##