Join OC Pride, Gay For Good, MenAlive, DeColores OC, The Center OC, OC Young Democrats, Orange County Log Cabin Republicans and other LGBT organizations from around Orange County for a festival in association with The National Gay Blood Drive, on Friday, July 11, 2014, from 6:00 pm – 9:00 pm, at The Center Orange County, located at 1605 N Spurgeon St., in Santa Ana.
The FDA bans gay and bisexual men from donating bloo…d. This ban was established in 1983 before HIV testing capabilities. The ban prevents otherwise eligible people from contributing to the Nation's Blood Supply and perpetuates inaccurate stereotypes and stigma about the LGBT community.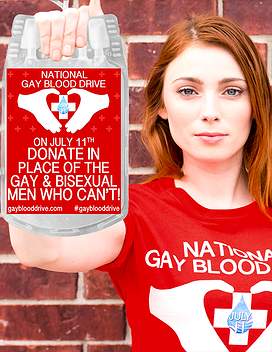 National Gay Blood Drive is a grassroots effort to increase awareness of this FDA ban and generate 100,000 signatures as a first step in facilitating a change to it.
Join us by bringing together the LGBT community and straight allies in Orange County to sign this petition. Eligible donors will have the opportunity to make an appointment to give blood in the following days (Blood donations will not be made at this event).
If you're unable make it to sign the petition in person, you can sign it online: https://petitions.whitehouse.gov/petition/call-hhs-fda-end-their-ban-against-gay-bisexual-male-blood-donors/7mcCpPxl (Be sure to confirm the signature via email after submitting.) With 97,463 signatured needed to call on U.S. Department of Health and Human Services and the U.S. Food and Drug Administration to end their ban against #gay and #bisexual male blood donors, please sign and share!