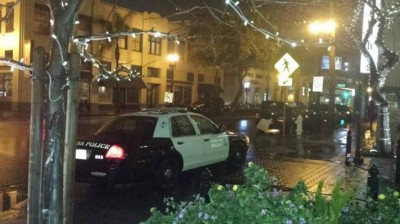 When Ellie Soto, a student at Santa Ana College, posted this on Facebook: "The community of Santa Ana is asking for more green spaces and less drinking spaces. The city may have an increase in sales, business license, and income but it has become a very dangerous city to be in," Santa Ana Councilman David Benavides immediately responded – "Really? Santa Ana has become a 'very dangerous city to be in'? I would be very interested to see the statistics that the persons that are making this claim have to support this theory. In fact, Santa Ana crime statistics have been on a nose dive the last few years, in fact the OC Register wrote about it not too long ago. If someone has statistics that prove the OC Register or the SAPD wrong please present them to me, that would be very concerning to me."
The response, from none other than local arts leader Pocha Pena, was downright incredible:
Pocha wrote: "Councilman David Benavides – While hanging an art show @ OCCCA a man started throwing bricks at people & lighting stuff on fire. I called DTI's private security force as instructed by the gallery director. The guard told me he was busy & NOT to call police or he'd get in trouble. After numerous more calls to this sole guard over 40 mins without a response, I dialed SAPD who showed up in under 5 mins & subdued the aggressor. DTI "Clean & Safe" officer came later & took a report which he said went to DTI's head & not police. I later confirmed w my fellow SABC merchant members that crime stats in DTSA are kept artificially low because DTI reports don't go to Chief Rojas. Is this true? Can you look into it, or can an audit be called? Recently there have also been attempts to rob OCCCA's donation box which has never happened since they opened over a decade ago. Also, my office was located across the street from the Pham murder site. Before the incident we would hear fighting every single night from Weds – Sat coming from Crosby after midnite. I spoke about this at City Council & at Planning where I also commented about the frequent public urination & pizza-size pukes we'd find every morning. Now that someone has died & Crosby is closed, these incidents have stopped. It's too bad no one stepped up to prevent this needless tragedy. Why are you so reluctant to believe that the downtown has gone off balance Mr Benavides? With the artists gone & the focus shifted from Arts & Culture to binge drinking "Entertainment", it seems that more tragedies are soon to follow. :("
This is information we have published before – DTSA crime is being covered up by the use of a security guard contractor.  For Pena, who is a legitimate DTSA leader, to speak up like this is without precedent.
The fact is that Benavides and his Planning Commissioner, Phil Becerra, have repeatedly pushed to make liquor licenses easier to get and they want to extend drinking hours to 4 am.  But are those good policies for a downtown that is reeling from crime and public nuisances due to the binge drinking culture that has become the norm in DTSA?
This is a good time to ask if this is really the direction we want our downtown to go in, even as artists are evicted from the Santora Arts building.  Is it still an Artists Village or has our downtown become a paradise for drunken hipsters and yuppies who for the most part don't even live here?