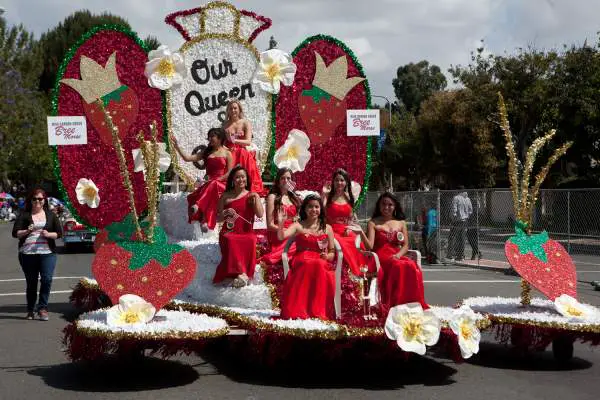 Garden Grove Strawberry Festival, Press Release
CONTACT: Judy Cooper – 949/640-8828 ph – 949/644-8889 fax – jcpr@pacbell.net
CHRISTINE DEVINE NAMED THEME GRAND MARSHAL plus MISS CALIFORNIA LEAH CECIL AND ACTOR JAMES HONG NAMED CO-CELEBRITY GRAND MARSHALS OF THE 55TH ANNUAL GARDEN GROVE STRAWBERRY FESTIVAL PARADE
— Fourteen Celebrities to be Honored —
GARDENGROVE, CA (May 16, 2013) – Winner of sixteen Emmy Awards, KTTV Fox 11 News Anchor Christine Devine has been named Theme Grand Marshal of the 55th annual Garden Grove Strawberry Festival parade in honor of the 2013 theme "Celebrating 55 Years of Helping Local Kids." The festival will be held Memorial Day Weekend Friday, May 24th through Monday, May 27th, 2013. The parade will be Saturday, May 25th at 10 a.m. at Ninth and Chapman in Garden Grove.
Ms.Devine hosts "Wednesday's Child," the adoption segment which has aired on Fox for 18 years, with more than 450 children from foster care finding forever families. She received the Governor's Award and has been honored by the U.S. Congress and the Child Welfare League of America and has authored Finding a Forever Family, A News Anchor's Notebook. She is also co‐founder of multi‐award‐winning "The Good News Foundation" which has built computer labs, a park and library among its projects.
This year the festival has chosen two Celebrity Grand Marshals:Actor James Hong and the current reigning Miss California, Leah Cecil. James Hong will be starring in this summer's Universal Pictures R.I.P.D. with Jeff Bridges, Kevin Bacon and Mary‐Louise Parker opening July 19th nationwide. He also will reprise his role in the third installment of Dream Work's Animation Kung Fu Panda 3 currently set for winter of 2015. Including his award winning voice‐over work, he can be seen on the Disney XD Channel show Pair of Kings in his recurring role of the island's elder. Other Disney shows include A.N.T. Farm and I'm in the Band. Working with many famous stars over the years,James Hong has over 450 on‐screen credits to his name and the list continues to grow. He will sign autographs(Tent 145) on Saturday afternoon of the festival to help raise funds for Young Variety, a part of Variety ‐ The Children's Charity of Southern California.
Miss California, Leah Cecil is the Garden Grove Festival's home town pride and joy. This former Miss Garden Grove 2011 went on to win Miss California 2012! At the competition she was a triple preliminary winner in Talent, Swimsuit, and Evening Wear categories. Miss Cecil earned a Bachelor of Arts Degree in Music from California State University, Fullerton, and plans to obtain a Master's Degree. She has been principle harpist of six symphony orchestras and is the recipient of the 2011 Bernie Rose Outstanding Musician Scholarship. She is the on‐call harpist at the Children's Hospital of Orange County (CHOC), a frequently requested vocalist for the
National Anthem, and was the featured harpist on the 30th Anniversary album of Mariachi Sol De México. Miss Cecil performed as violinist in Wes Craven's movie Music of the Heart starring Meryl Streep. She is also the recipient of the 2008 Soroptimist Award for Community Service.
Eleven additional TV,film and radio celebrities will also be honored guests in the parade: Ed Arnold (Anchor PBS SOCAL's The Real Orange); Karan Brar (Disney's Jessie); on‐air talents Christine Martindale (KKGO‐FM "Go Country 105) and Rachin (Exitos 93.9); Mckenna Grace (Joe & Joe & Jane; Crash and Bernstein); Alicia Sixtos (East Los High); Sabrina Carpenter(Girl Meets World) and sisters Savannah Paige Rae (Parenthood) and Emily Evan Rae (Parenthood); Sierra McCormick (A.N.T. Farm);Daphne Blunt (Fanlala's Daphne's Look of the Week). The parade also features Knott's Berry Farms' Snoopy, Ronald McDonald, and two characters from Despicable Me2, plus the world famous Sk8 Kings skateboarding troupe.
Click here for more information.
The festival takes place every year over Memorial Day weekend. Friday hours are 1 p.m.to 10 p.m.; Saturday and Sunday 10 a.m.to 10 p.m. and Monday from 10 a.m.to 9 p.m. All four festival days will offer 35 exciting carnival rides, contests, over 200 food and shopping booths, games, autograph signings and live entertainment in the Show mobile and the 550‐seat Amphitheater. Admission is free. Wrist Band ride discounts entitle the wearer to all rides, all day for one low price: $25 per person on Friday, $30 on Saturday through Monday.
Contests include the Berry, Berry Beautiful Baby Contest, Redhead Roundup, Strawberry Idol Karaoke, and Tiny Tots King and Queen. And a new contest: The Kids Helping Kids Contest where contestants can be submitted online at the festival website. For the other contests contestants sign up an hour before each begins. The festival website www.strawberryfestival.org has information on each event.
The media and businesses have stepped forward to sponsor the event. Sponsorship support this year is from
Garden Grove Tourism Promotion Corporation, Time Warner Cable, Clear Channel Outdoors, McDonalds, Care Ambulance Service,Jay's Catering, Las Vegas Lodging Commission, Sam's Club, Crowne Plaza Resort Anaheim, Costco,Garden Grove Hospital, Brandywine Homes and Casa Garcia. Media sponsors include Parenting OC,Garden Grove Journal,OCNews, Korea Times, El Panamericano, FarandulaUSA, Miniondas, Nguoi Viet Daily News, and radio stations KOST, KWVE, KEARTH, 94.7 The Wave, KSWB, KSSE, KLYY, Exitos 93.9, KDAY, KWIZ and JACK FM.
The Garden Grove Strawberry Festival Association is a non‐profit organization which has raised more than $6
million for local charities since its inception in 1958. For additional information, please call (714) 638‐0981 or visit the website at www.strawberryfestival.org.
# # #