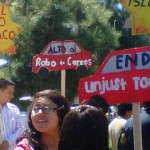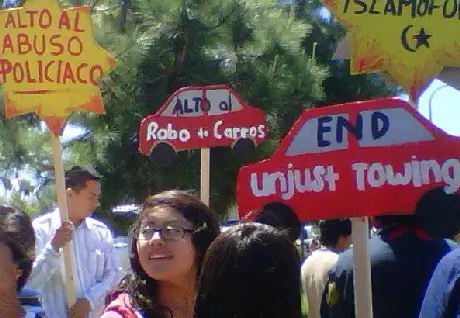 The Orange County May Day Coalition presents:
CHANGING YOUR CITY'S UNJUST VEHICLE CHECKPOINT & IMPOUNDMENT POLICIES
A free training for community-based organizations, conducted by Lucero Chavez, esq.
Thursday, May 12, 6:30 to 8:30 pm
SEIU Office: 1200 North Main St. (at Washington), Ste. 900, Santa Ana
This training is designed to provide advocates with tools that have helped other communities carry out successful campaigns to change their city's checkpoint and car impoundment policies. We will
review relevant cases and vehicle codes that provide the basis for the authority of the police to have checkpoints and impound cars,
identify ways to get information on current policies in your city,
look at how checkpoints are funded,
review key recommendations made in other cities,
review provisions of existing policies in other cities,
go over existing Know Your Rights information, and
review checkpoint observing tools and data collection strategies.
This invitation is extended to community-based organizations from diverse fields — including immigration, labor, faith, and criminal justice — interested in working change unjust vehicle impoundment policies in their communities. This training is not intended for the general public. This training is not open to government officials or members of the media.
Light refreshments provided. Space is limited.
LUCERO CHAVEZ is an immigrant rights attorney with the ACLU of Southern CA based in Orange County. The ACLU of Southern CA opened its Orange County satellite office in 2005. The ACLU is non-profit organization that focuses its resources on impact litigation as well as policy advocacy. As an immigrants rights attorney, Lucero focuses on informal and formal local enforcement of federal immigration laws. On the issue of car impoundments and checkpoints she has worked with PICO CA affiliates, bay area, central valley, and inland empire groups, as well as local communities. She is also a part of the statewide coalition of advocates pushing for legislative change on the car impoundment issue in Sacramento.
Click here to RSVP on Facebook.