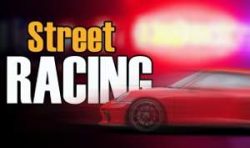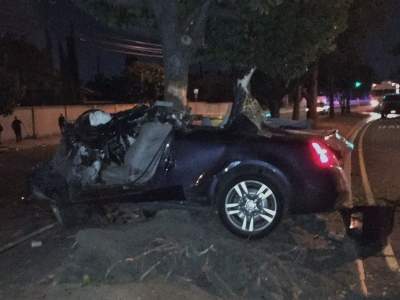 On Thursday, October 10, 2019 at approximately 11:35 pm, Santa Ana Police Officers were dispatched to the 3200 block of W. Warner Avenue in regards to reported street racing activity. As the officers arrived in the area, they observed a vehicle exhibiting speed and being operated in a reckless manner. Upon seeing the police vehicles, the driver fled east on Warner Avenue at a high rate of speed. Officers went after the vehicle in an attempt to initiate a traffic stop for the observed vehicle code violations. The suspect did not yield and the officers initiated a pursuit.

The vehicle fled continued east, as it passed through the intersection of Warner Avenue and Raitt Street, failing to stop for the overhead red signal light. After passing through the intersection, the driver began to lose control and collided into a tree in the center median of the roadway. The driver and passenger were trapped in the vehicle. The Orange County Fire Authority (OCFA) responded to the scene and had to use the Jaws of Life to extricate both occupants from the wreckage. Both occupants were briefly treated at the scene before being transported by CARE Ambulance to a local hospital with major and life threatening injuries. Drugs are believed to have played a role in this collision. The investigation is ongoing.
The Santa Ana Police Department's Collision Investigations Unit (CIU) responded to the scene and handled the investigation. Anyone having possible information about this collision is asked to contact the Santa Ana Police Collision Investigator Wes Hadley at (714) 245-8216 or Corporal Brett Nelson at (714) 245-8208.