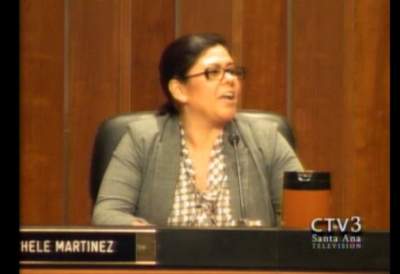 We have been scrutinizing the public calendars of the Santa Ana City Council Members this week.  We already looked at Councilman David Benavides' calendar, and that of Councilwoman Angie Amezcua.  Now we will have a look at Ward 2 Councilwoman Michele Martinez' calendar: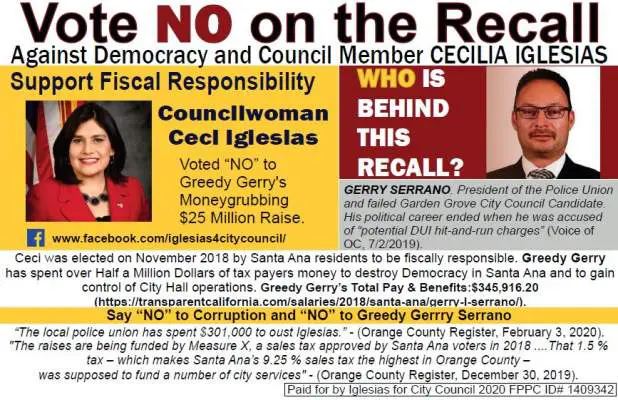 Martinez organized a City Health & Fitness Fair on June 1, at Rosita park, located on the border of Wards 3 and 5.  On the same day Martinez appeared at the Grand Opening of the Latino Health Access Park/Community Center, which is located near 4th and Main St.  That center is indeed located in Ward 2.
On June 3 she attended the Station District /Triada Homes Grand Opening.  That too is in Ward 2.
One June 4 she attended the Santa Ana Chamber of Commerce Leadership Summit Breakfast, located near MacArthur and the 55 Freeway, in Ward 1.
She also attended a meeting on June 4 regarding the Alcohol & Entertainment Ordinance, which was pushed for mostly by bars and restaurants in the Downtown area, in Ward 2.
On June 10 she attended the SAUSD Dr. Melendez Retirement Celebration, which was held at Santa Ana High School, which is located in Ward 2.
She attended the El Sol Graduation Ceremony on June 12.  El Sol is located in Ward 2.
She also attended the Santa Clara Avenue Orchard Meeting that day.  I am assuming this is a reference to the old orange orchard located in Ward 3.
On June 24, she met with the United Artists of Santa Ana, who are located in the Artists Village, in Downtown Santa Ana, in Ward 2.
And from June 26 to June 20 she was at the NALEO (National Association of Latino Elected Officials) Conference in Chicago.  We the taxpayers paid for her flight, her hotel and her gourmet meals.
She also somehow was at the 4th of July Event held by the city on June 30, at Centennial Park, which is located in Ward 6.
Martinez did not apparently attend any Neighborhood Association meetings in June.
Isn't it time for Santa Ana to have a voice on the O.C. Board of Supervisors?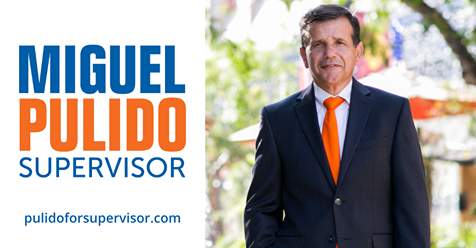 Paid for by Miguel A. Pulido for Supervisor 2020 (ID #1422663)
So how did she do?  Overall she did attend several events all over the city but did not forget her own Ward.  So far she has the best record of the three Council Members we have looked at.
Advertisement
Is your employer a mess? Call Sasooness.
In the state of California for every 5 hours worked an employee must get a 30 minute, uninterrupted lunch break. For every 3 hours worked an employee must get an uninterrupted 10-minute rest break. Working over 8 hours in a day or 40 hours in a week is due overtime. Don't let your employer screw you! Give us a call at 323 746-8099.
En el estado de California por cada 5 horas de trabajo su patrón le debe permitir tener un receso de media hora sin interrupciones. Si trabaja más de 8 horas en un día o más de 40 horas de trabajo en una semana su patrón le debe pagar tiempo y medio. No deje que su patrón abuse de su trabajo. No importa que no tenga papeles. Usted tiene derechos. Llamenos al 323 746-8099.
Next up – Mayor Pro Tem Sal Tinajero's Calendar.