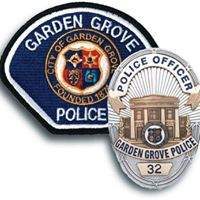 Garden Grove police officers shot and wounded an unidentified man early this morning as he tried to flee from the parking lot of the Grove Motel, according to the Garden Grove Police Department.
The suspect apparently tried to hit a police officer with his car as he was trying to flee from the police.
The incident happened at 12:30 a.m. this morning as two Garden Grove police officers were checking vehicles that were parked at the Grove Motel, located at 9821 Garden Grove Blvd.
The police officers noticed three people in a white Honda Accord. The officers tried to make contact with the vehicle's occupants but then after that initial contact one of the police officers was struck by the car as the driver tried to take off, according to the Garden Grove police.
The suspect was shot several times. He was taken by paramedics to a trauma center. The police officer was treated and released. Two passengers that were in the car during the shooting were not hurt.
The passengers, who are an unidentified man and a woman, were not arrested. They cooperated with the police investigators.
The Orange County District Attorney's Office, in conjunction with the Garden Grove Police
Department, is conducting an investigation into the incident.