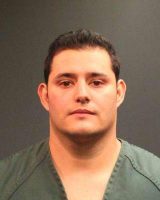 Santa Ana Police Department
Advisory: SAPD Detectives Arrest Suspect In Attempted Rape Case, Believe There May Be Additional Unreported Victims
Jorge Cruz De Armas (27) Tustin, suspected of kidnapping and attempting to sexually assault a 28-year-old woman, was arrested in Costa Mesa last night. Santa Ana Police detectives arrested 27-year-old Jorge Cruz De Armas at his workplace after evidence at the crime scene led police to his identity.
On Monday at about 4:30 p.m., De Armas contacted the victim and offered her a ride. The victim accepted the offer and willingly entered his vehicle. Moments later, De Armas asked the victim if she wanted to have sex with him and she refused. De Armas drove the victim to an alley in the 1600 block of East Palm Street in Santa Ana where he attacked the victim.
De Armas began to strangle the victim and covered her mouth with duct tape. A Good Samaritan, Taylor O'Neill, heard screaming coming from De Armas's vehicle and quickly approached and interrupted the assault. O'Neill opened the door and rescued the victim. He also took photos of the vehicle as the suspect fled the scene.
Santa Ana Police Detectives believe there may be additional victims and ask anyone with information contact Detective E. Majors at 714-245-8378, emajors@santa-ana.org or Orange County Crime Stoppers at 1-855-TIP-OCCS.