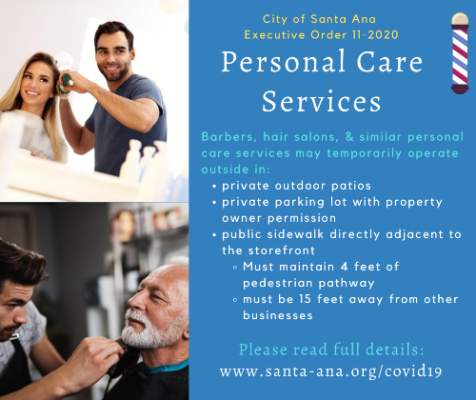 This week Santa Ana City Manager Kristine Ridge signed Executive Order 11-2020, which authorizes additional businesses to operator outdoors, including barbers, hair salons and expanded personal care services. Personal care services that require touching a client's face (facials, waxing), esthetics, skin care, cosmetology, nail services and massage therapy (in non-healthcare settings) may operate outdoors in accordance with the "City of Santa Ana: Guide for Outdoor Business Operations."
Please note that the following businesses may not provide outdoor services because they have invasive procedures that require a controlled hygienic environment: electrology, tattooing and piercing.
Business owners are highly encouraged to read and adhere to "City of Santa Ana: Guide for Outdoor Business Operations," which is available at www.santa-ana.org/covid19.
OUTDOOR PERSONAL SERVICES GUIDELINES
In July 2020, Governor Gavin Newsom announced guidelines for hair salons and barbers as well as guidelines for Expanded Personal Care Services to operate outdoors.
The City of Santa Ana is temporarily authorizing personal services to be offered outdoors citywide with the following requirements:
• May operate on private parking lots with written permission from the property owner.
• The City is temporarily suspending the requirement of a land use certificate and permitting requirement for sidewalk use.
• May occupy a maximum parking space of 30 feet x 20 feet, but may NOT exceed 25% of the entire parking lot. Up to 50% of a private parking lot can be used cumulatively for restaurants, retail, mobile food vending, and personal services.
• May operate on sidewalks directly adjacent storefront if businesses do not have private outdoor areas or an onsite parking lot.
o Must maintain Americans with Disability Act (ADA) requirements at all times, including adequate and unobstructed pedestrian flow of at least 4 feet.
• Must maintain a minimum of 15 feet away from any other businesses during normal business hours.
Hair salons and barbershops must also be in accordance with all State guidelines as follows:
• Outdoor operations may be conducted under a tent, canopy, or other sun shelter as long as no more than one side is closed, allowing sufficient outdoor air movement.
• Salons/barbershops should not perform a service that would require a customer to have to enter the establishment.
• Maintain at least 6 feet between and among workers and customers, except when providing services.
• Establish an outdoor reception area where customers can check in while following physical distancing guidelines. If possible, implement virtual check-in technology.
• Stagger appointments to reduce reception congestion and ensure adequate time for proper cleaning.
• Perform thorough cleaning in high-traffic areas and clean at the beginning and end of each shift and in between customers.
• Must continue to follow existing California Board of Barbering and Cosmetology rules
ADDITIONAL RESOURCES
The City of Santa Ana has established a Business Resource Hotline for local businesses to communicate and get resources during economic recovery from the COVID-19 pandemic. Available Monday through Thursday during normal business hours.
Call: (714) 647-5477 or visit: www.santa-ana.org/businesses-and-workers-impacted-coronavirus
COVID-19 Safety Protocols
Businesses and community members should wear face coverings in public, practice social distancing, wash your hands frequently, and ensure COVID-19 safety protocols as recommended by the OC Health Care Agency (https://occovid19.ochealthinfo.com/ and California Department of Public Health (https://www.cdph.ca.gov/).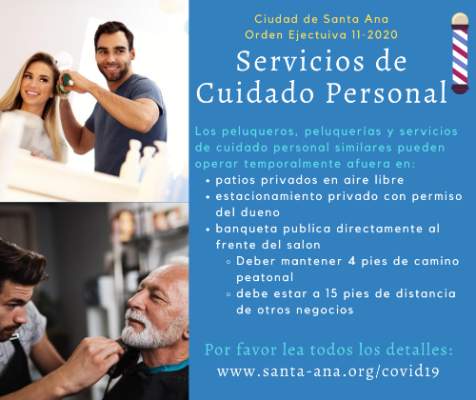 Al Aire Libre: Peluquerías, Salones de Belleza, Servicios de Cuidado Personal
Esta semana la Gerente Municipal de Santa Ana, Kristine Ridge, aprobó la Orden Ejecutiva 11-2020, que autoriza a negocios adicionales a operar al aire libre, incluyendo barberos, peluquerías y servicios de cuidado personal ampliados. Negocios de cuidado personal que requiere tocar la cara del cliente (tratamientos faciales, depilación), estética, cuidado de la piel, cosmetología, servicios de uñas y terapia de masajes (en entornos no relacionados con la atención médica) puede operar al aire libre de acuerdo con la "Ciudad de Santa Ana: Guía para Operaciones Comerciales al Aire Libre".
Tenga en cuenta que las siguientes empresas no pueden operar al aire libre porque tienen procedimientos invasivos que requieren un entorno higiénico controlado: electrología, tatuajes y perforaciones.
Se recomienda a los propietarios de negocios que lean y se adhieran a la "Ciudad de Santa Ana: Guía para operaciones comerciales al aire libre", que está disponible en www.santa-ana.org/covid19.
PAUTAS PARA OPERACIONES AL AIRE LIBRE
En julio de 2020, el gobernador Gavin Newsom anunció pautas para salones de belleza y barberos, así como pautas para que los servicios de cuidado personal ampliados operen al aire libre.
La Ciudad de Santa Ana está autorizando temporalmente que se ofrezcan servicios personales al aire libre en toda la ciudad con los siguientes requisitos:
• Puede operar en estacionamientos privados con permiso por escrito del dueño de la propiedad.
• La Ciudad está suspendiendo temporalmente el requisito de un certificado de uso de la tierra y el requisito de permisos para el uso de aceras.
• Puede ocupar un espacio máximo de estacionamiento de 30 pies x 20 pies, pero NO puede exceder el 25% de todo el estacionamiento. Hasta el 50% de un estacionamiento privado se puede usar acumulativamente para restaurantes, tiendas minoristas, venta ambulante de alimentos y servicios personales.
• Puede operar en las aceras directamente adyacentes a la tienda si las empresas no tienen áreas privadas al aire libre o un estacionamiento en el lugar.
• Debe mantener los requisitos de la Ley de Estadounidenses con Discapacidades (ADA) en todo momento, incluido el flujo de peatones adecuado y sin obstáculos de al menos 4 pies.
• Debe mantenerse a una distancia mínima de 15 pies de cualquier otro negocio durante el horario comercial normal.
Los salones de belleza y las barberías también deben estar de acuerdo con todas las pautas estatales de la siguiente manera:
• Las operaciones al aire libre se pueden realizar debajo de una tienda de campaña, marquesina u otro refugio solar siempre que no se cierre más de un lado, lo que permite suficiente movimiento de aire exterior.
• Los salones / barberías no deben realizar un servicio que requiera que un cliente tenga que ingresar al establecimiento.
• Mantener al menos 6 pies entre trabajadores y clientes, excepto cuando se brindan servicios.
• Establezca un área de recepción al aire libre donde los clientes puedan registrarse mientras siguen las pautas de distancia física. Si es posible, implemente la tecnología de registro virtual.
• Alterne las citas para reducir la congestión de la recepción y garantizar el tiempo adecuado para una limpieza adecuada.
• Realice una limpieza a fondo en áreas de mucho tráfico y limpie al principio y al final de cada turno y entre clientes.
• Debe continuar siguiendo las reglas existentes de la Junta de Barbería y Cosmetología de California.
RECURSOS ADICIONALES
La ciudad de Santa Ana ha establecido una línea directa de recursos comerciales para que las empresas locales se comuniquen y obtengan recursos durante la recuperación económica de la pandemia COVID-19. Disponible de lunes a jueves durante el horario laboral normal.
Llame al: (714) 647-5477 o visite: www.santa-ana.org/businesses-and-workers-impacted-coronavirus
Protocolos de Seguridad COVID-19
Las empresas y los miembros de la comunidad deben cubrir la cara en público y practiquen el distanciamiento social, se laven las manos con frecuencia y garanticen los protocolos de seguridad COVID-19 según lo recomendado por la OC Health Care Agency (https://occovid19.ochealthinfo.com/) y el Departamento de Salud Pública de California (https://www.cdph.ca.gov/).