Did you know that Santa Ana's longtime trash contract with Waste Management is coming to an end soon? This is a big deal as we have had a contract in place with Waste Management since 1993. The last time this contract came up for renewal it was put to bid via a Request for Proposal (RFP) and the taxpayers saved millions of dollars when Waste Management had to win the bid by lowering their massive price.
The City of Santa Ana got the latest renewal process started when they sent out a Request for Proposal (RFP) for a trash consultant to develop a new contract, in September of last year.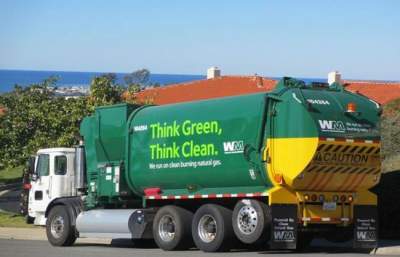 In December of last year the City of Santa Ana selected a consultant, Sloan Vazquez McAfee for the new trash contract, and agreed to pay them $164K. Their report was to be completed in six months. Insiders doubted the wisdom of giving this contract to Sloan Vazquez McAfee as Waste Management is one of their clients!
On August 16 of this year the city staff report indicated no work done by their expensive consultant. The staff then asked the City Council for direction – either for an RFP or a sole negotiation with Waste Management. That did not follow the agreed upon process. The City Council continued the matter due to a lack of quorum.
The city staff has resubmitted their report from the August 16 City Council meeting, for the upcoming City Council meeting on Sep. 6. Still no work has been completed by their six figure trash consultant. This obviously puts the city way behind in the process of granting a new trash contract – only serving to help Waste Management of course.
At this point one must wonder what is in the Sloan Vazquez McAfee report that the City Council does not want us to see? Shouldn't the City Council have this information on hand before they decide to either renew with Waste Management, which will no doubt rip off the taxpayers, or put the trash contract out to bid?
I also spoke to a city insider today who told me that the real issue at hand is that the City has been ripping us off for years by arranging a contract with Waste Management that has overcharged us to the tune of millions of dollars that the city has then used for non-trash related reasons. This is now illegal under Prop. 218, and Cavazos is desperately trying to figure out how to keep ripping us off, while he claims there is a $7 million dollar surplus. Remember he got the City Council to give him a raise and a bonus and to do the same for other top city executives. That is our money they are wasting on themselves! 
The city's Public Works Dept will also be proposing adding a 5-year fee to garbage collection to help raise money ($85M) to repair the remaining 40% of city streets and sidewalks that need repair. In June Public Works staff gave a presentation to local residents about the fee. It will be called "SMART Santa Ana – Sustainable Mobility and Roadway Transformation.
This is how the fee will be assessed over the 5 years:
Year 1 $1
Year 2 $2
Year 3 $3
Year 4 $4
Year 5 $5
Remember that this is an election year. I would not be surprised if Waste Management was greasing the skids by donating the maximum allowable amount to the City Council incumbents – or to their PACS. The latter makes sense as the incumbents can still vote on the trash contract if their campaigns don't personally receive the campaign contributions.
The City Council incumbents who are up for re-election this year include Mayor Pro Tem Vince Sarmiento and Roman Reyna. If they vote to renew the trash contract with Waste Management we will know that they sold their vote in advance –  and that they are in cahoots with Cavazos.