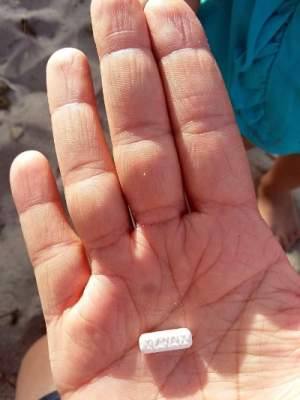 One of our readers reported that her 2-year old toddler found a Xanax pill while playing in the sand at El Salvador Park in Santa Ana. As it turns out it is possible that pill contained Fentanyl, which could be fatal to a toddler.
For years now Santa Ana's parks have steadily gone downhill. Their bathrooms are disgusting. They often have burned out lights. And they are rampant with vagrants and worse.
Just in the past year we have reported numerous incidents that happened at our parks including molestations, arrests, murders and other violent acts.
We live in a city that is terribly short on park space – and now we can't even take our kids to our parks or God forbid let them go there by themselves.
How did this happen? How did the City of Santa Ana allow our parks to be ruined? There are plenty of city executives in charge of our parks. Why aren't they being held accountable?
You really see the difference when you visit parks in our neighboring cities, such as Tustin, Orange and Irvine. Their parks are so much nicer than ours! Why do their city leaders value their parks more than ours do?
The downfall of our parks happened under our current Santa Ana City Council majority – so for one thing we need to replace our City Council. That means don't vote for their allies and don't vote for Roman Reyna, who served on the Council for years in Ward 5 and is now carpetbagging in Ward 4. We need new leadership on the Santa Ana City Council!
And we need new ideas. For example our neighboring city of Anaheim is now committed to using security guards to keep their parks safe. That is a great idea we ought to replicate here in Santa Ana.
I would like to see more lights installed in our parks. Other cities are now using lights that are solar powered. That sure makes sense. And you can supplement these lights with video cameras to help monitor our parks and summon help when needed.
We need to restore law and order at our parks. That means arresting those who break the law – including men who come to our parks to hook up with each other; drug users; drunks; and vagrants who spread litter and human waste and leave behind drug paraphernalia.
Think before you vote in the upcoming Nov. 6 General Election. We need City Council members who will fight to restore our parks!
Ward 2 candidates who I think will fight to improve our parks include Mike Gonzalez, David Penaloza, Irma Macias and Sandra Pocha Pena Sarmiento. Of those only one has experience in fighting crime – Mike Gonzalez. He has owned and managed a top security guard firm in Santa Ana for over 25 years. Macias has worked hard to improve her neighborhood and has experience in code enforcement. Penaloza lost his dad to a drunk driver and is endorsed by the Santa Ana Police Officers Association. Sarmiento's background is in the arts but she is well-traveled and has seen how other cities do a much better job managing their parks.
In Ward 6 I am certain that SAUSD School Board Member Ceci Iglesias will do a good job in this regard. In her current position she already is very involved in recreational activities and in keeping our schools safe. Mirna Velasquez, another Ward 6 candidate, is, like Ceci, a mom. She is also endorsed by the Santa Ana Police Officers Association.
Over in Ward 4 we find former City Councilman Roman Reyna, who lost his Ward 5 seat when a picture of him with members of La Eme (the Mexican Mafia) surfaced. He steadfastly refused to explain that picture and it cost him his seat. Now he is carpetbagging in Ward 4 against a former Planning Commissioner, Phil Bacerra, who is dealing with nasty allegations made by a former girlfriend. Bacerra is however endorsed by most of the local labor unions as well as the Santa Ana Police Officers Association and the Democratic Party of Orange County.
Santa Ana Mayor Miguel Pulido is running again for the last time thanks  to term limits. His opponent, Sal Tinajero, has presided over the City Council for years and he deserves much of the blame for the problems the city is having now. Tinajero's solution is to raise our sales taxes to the highest level in all of Orange County, via Measure X. That ballot measure will just toss gas on the fire as it will surely drive more businesses out of Santa Ana!
By the way the interim Executive Director of the Santa Ana Parks and Recreation Agency is Ralph J. Nuñez . He can be reached at (714) 571-4204 or email at RNunez@santa-ana.org.