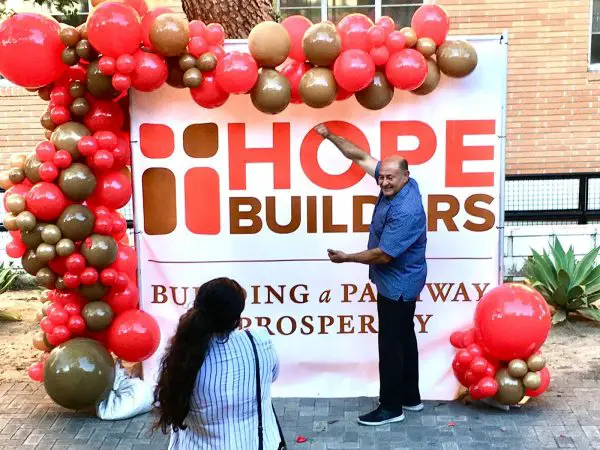 SANTA ANA, CA – Last night, Representative Lou Correa (CA-46) joined officials at Hope Builders to announce $500,000 in federal funding to expand access to low-income youth job training services in Santa Ana.
Hope Builders empowers Orange County's young adults with mentorship, life skills and job skills training that meets the needs of employers. Secured by Rep. Correa, this funding will be targeted to skills training and employment placement services for 200 Orange County low-income young adults facing barriers to workforce re-entry like incarceration, transitional aged foster care, DACA, domestic violence, as well as those with young families. Founded by the Sisters of St. Joseph of Orange in 1995, Hope Builders is laser-focused on connecting young adults to careers that lead to living-wage employment and prosperity.
"Hope Builders works on the front lines of our community to ensure that our young people—no matter who they are or the resources they have—have the support they need to thrive," Rep Correa said. "Our children are our future, and Hope Builders is uplifting the next generation of leaders in our community, one job at a time. That's why this federal funding is so important—so that hundreds more Orange County young adults can have access to a pathway to prosperity."
This funding is part of the nearly $30 million that Rep. Correa secured for community projects throughout California's 46th congressional district in the Fiscal Year 2023 (FY23) omnibus appropriations bill, which President Biden signed into law last year. Rep. Correa worked in lockstep with community leaders to identify priorities for CA-46 constituents, and fought for them during the annual funding process.
"We are extremely grateful to Congressman Correa for supporting Hope Builders' efforts to build a strong workforce and to give people the tools that they need to thrive," said Shawna Smith, Executive Director of Hope Builders. "This funding will connect hundreds of Orange County young adults to pathways to prosperity."
ABOUT HOPE BUILDERS:
Hope Builders empowers Orange County's young adults with mentorship, life skills and job skills training that meets the needs of employers. This worthy goal reflects an unwavering acceptance of others and where they are on their life trajectories, and its commitment to empowering young adults to realize their strengths and positively impact their futures.
The Sisters of St. Joseph of Orange founded the organization in 1995 in response to increasing gang violence, high youth unemployment, low high school graduation rates and rising teen pregnancy rates in Central Orange County. Every year, Hope Builders enrolls more than 200 young adults, who are caught in this cycle of poverty, and strives to help them achieve and maintain self-sufficiency.
ABOUT LOU:
Congressman Lou Correa is a longtime Orange County resident, with deep local roots. To this day, he lives only three miles from his childhood neighborhood in Anaheim. He is the son of working-class parents whose hard work gave him a chance at success, and has spent his career fighting to protect the American Dream, and ensure anyone can reach the middle class, just as he did. In 2016, Lou was elected to the U.S. House of Representatives to continue his work by representing the community he has spent the past 20 years serving, fighting to give everyone access to the same opportunity he had. Congressman Correa is committed to working across party lines to strengthen the middle class and give everyone a shot at the American Dream by investing in education, healthcare, and our fading infrastructure, and has introduced legislation to protect the legal rights of immigrants, care for veterans, and fight against the wasteful spending of taxpayer money.