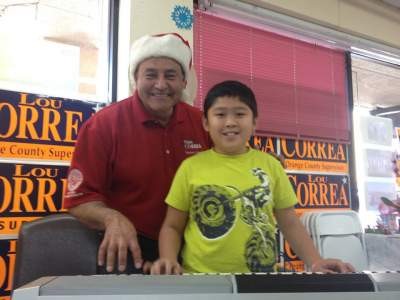 Senator Lou Correa is hosting a Holiday Celebration on Tuesday, December 23, 2014, from 4 to 8 pm, at the Plaza Santa Ana, located at the corner of 4th St. and French St. in Downtown Santa Ana.
The event will feature a toy giveaway!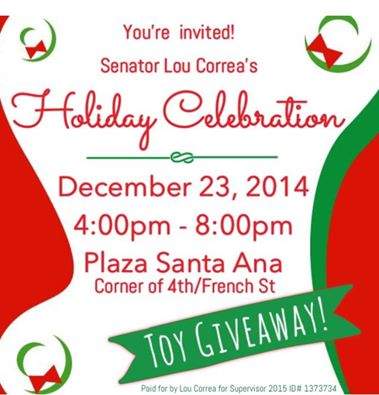 Correa is the leading candidate for the First District of the Orange County Board of Supervisors.  A Special Election will be held in January to fill the seat, which was vacated by Janet Nguyen, who is replacing Correa in the 34th State Senate District.
Long active in community affairs, Lou Correa's passions include providing healthcare for children and mental healthcare services, and autism services for our communities, as well as ensuring the affordability of higher education for all California students.
Lou Correa is a product of the Anaheim public school system, where he attended Benjamin Franklin Elementary, Fremont Junior High and Anaheim High School. He holds degrees in Economics from California State University, Fullerton, and a Juris Doctor (JD) and Masters in Business Administration (MBA) from the University of California, Los Angeles (UCLA).
Correa has served on the Board of the Orange County Community Development Council, the county's anti-poverty council, the California Small Business Board, and the Orange County Boy Scouts. Prior to serving in the California State Legislature, he was an investment banker and a real estate broker. Correa is licensed with the California Real Estate Board and the California State Bar.
Correa previously served on the Orange County Board of Supervisors, representing the 1st District, before being elected to the California State Assembly for three terms. Following that Lou was elected to the California State Senate, representing the 34th District in 2006 and again in 2010 serving the cities of Anaheim, Buena Park, Fullerton, Garden Grove, Santa Ana, Stanton and Westminster.
During his tenure in the California State Senate Lou served Orange County by supporting public safety, health, fitness and safety for children, mental healthcare services, as well as ensuring the affordability of higher education and taxpayer equity for all of our county residents. Correa instituted programs such as Operation Kid Prints, that reached out to local schools to provide free finger printing and child safety packet information in case of an emergency. To date, the program has fingerprinted over 50,000 Orange County children. His Young Senators Program brought together teenagers to learn more about the California State Legislative process, the importance of community service, and leadership.
Lou Correa lives in Santa Ana with his wife of 20 years, Esther Correa, and their four children. Correa was named "Father of the Year" by the American Diabetes Association of Orange County, and he is a member of St. Callistus Catholic Church.
Click here to volunteer to help the Correa campaign.