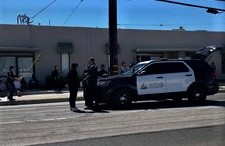 The SAPD took out an illegal gambling den on Saturday afternoon at S. Grand Ave. and E. St. Gertrude in what appears to be a light industrial area as reported by one of our readers via Facebook.
Pictures submitted by our reader show multiple SAPD cars and a SWAT team vehicle. Several suspects appear to have been arrested.
Illegal gambling dens have been a plague in Santa Ana for years. Their income is not reported or taxed and these operations attract prostitutes and drug dealers.
The SAPD did not issue a formal press release or acknowledge the raid on their social media pages.