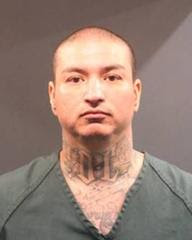 The SAPD arrested two suspects in a gang-related fatal shooting: Manuel Chairez (30) Garden Grove and Diana Tenorio (31) Garden Grove.
On Sunday, August 13, 2023, at 1:52 AM, Santa Ana Police Communications received a report of a shooting victim at 2734 N. Bristol Street. Officers responded and located an adult male down, suffering from apparent gunshot wounds to his upper torso. Orange County Fire Authority arrived and pronounced the victim deceased at the scene.
The Orange County Coroner's Office identified the victim as Jorge Velazquez (29) of Santa Ana.
Homicide detectives conducted extensive canvassing of the area and interviewed multiple individuals. Homicide detectives identified several suspects who were at the scene during the shooting. One of the suspects, identified as Diana Tenorio (31), was arrested at her residence on August 15, 2023, in the city of Garden Grove. Members of the Santa Ana Gang Unit executed a search warrant at the residence and located a firearm.
A second suspect, believed to be the shooter, was identified as Manuel Chairez (30) of Garden Grove. On August 16, 2023, at approximately 10:42 AM, Chairez was taken into custody in Moreno Valley with the assistance of the Santa Ana Gang Unit, Vice and Career Criminal Unit.
Homicide detectives interviewed Chairez who made incriminating statements. With the concurrence from the Orange County District Attorney's Office, SAPD Homicide detectives booked Chairez for CPC 187-Murder. On August 18, 2023, Chairez was formally charged with Murder by Deputy District Attorney R. Gennawey.
Anyone with additional information on the case is asked to call SAPD Homicide Section Detectives at (714) 245-8390, or Orange County Crime Stoppers at 1-855-TIP-OCCS.