The Santa Ana Literary Association will be presenting a new poem by a local poet every week this year. This week's poem is "Uncle Johnny Wants to Drive" by Lisa Alvarez.
Uncle Johnny Wants to Drive
Uncle Johnny just wants to drive
and so he does
his little brother in the back seat
remembers backyard pepper trees climbed
eighty years earlier
"We made our fun with what we found,
didn't we Johnny?"
Johnny's heard the story before
but it's five hundred miles to the Grand Canyon
the one place, their niece jokes,
that will make them all feel young
the two fathers in their 90s
their two daughters in their 50s
together almost three hundred human years
the desert has just begun
brilliant yellow blooms in washes
so he lets his brother talk
a widower now
in a rental sedan
he drives it like a Cadillac
he remembers
her by his side
all those years:
and on the radio:
Eydie Gormé and Los Panchos:
Sabor a Mí Piel Canela Granada
in the back
the six kids
in front
the road
in his strong hands
the steering wheel
a kept promise
all his life he laid
out roads like these
so
so
when he sees
his niece curl in shy fear
those swerves of banking curves! the speed!
the fear she carries with her like an old childhood coat
he can tell her
(and he does, gently, like the good father he is to whoever needs him to be one)
that all roads run straight
the curves
he explains
are just a series of single straight lines
each angled slightly so
so
don't be afraid
"See?" he says
she does
in the morning when they start out
the sun is in his face
that face cut by life like those canyon walls
days later when they return
the sun is in his face again
this time setting
they have not run out of stories or road
there is still time to keep talking
all the way home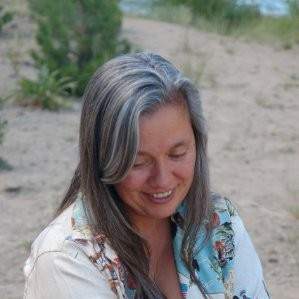 Lisa Alvarez's poetry and prose has been published in Borderlands: Texas Poetry Review, Huizache, PANK, Santa Monica Review, TAB Journal and most recently in So It Goes, the literary journal of the Kurt Vonnegut Museum and Library as well as anthologies including Sudden Fiction Latino: Short-Short Stories from the United States and Latin America (Norton). Along with Andrew Tonkovich, she co-edited Orange County: A Literary Field Guide (Heyday). She is the editor of the forthcoming Why to These Rocks: 50 Years of Poems from the Community of Writers (Heyday). Born in Los Angeles, she earned an MFA from UC Irvine and has taught for nearly 30 years as a professor of English at Irvine Valley College. Folks who attend Noche de Las Altares may recall seeing her wearing her ofrenda tribute skirt for the Ayotzinapa 43.