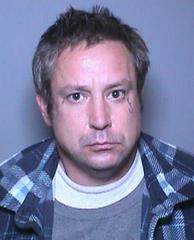 Advisory: SUSPECT WANTED IN ROBBERY AND ASSAULT W/ DEADLY WEAPON: CASE HAS BEEN IDENTIFIED/ARRESTED
Suspect: Ryan Quinten Hancock (43) Orange, CA
On Monday, February 4, 2019 at approximately 4:30 PM, Ryan Quinten Hancock (43) of Orange, was arrested by the Orange Police Department. He was booked at OCJ on a warrant for his arrest for the Macy's robbery and assault with a deadly weapon incident.
He has been charged by the District Attorney's Office for two counts of robbery and one count of assault with a deadly weapon. Detectives received several tips identifying suspect Hancock after we requested media and community assistance.
Location: Macy's – 2850 N. Main Street
On January 16, 2019 at approximately 7:01 PM, the above pictured suspect entered Macy's and removed clothing from the racks. The suspect proceeded to exit the store when he was confronted by two loss prevention officers. The suspect produced a knife from his pants pocket and swung it towards one of the loss prevention officers. The suspect dropped the clothing and fled eastbound through the parking lot.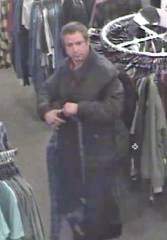 Any with information is asked to contact Detective D. Prewett at (714) 245-8323, dprewett@santa-ana.or or Orange County Crime Stoppers at 1-855-TIP-OCCS.