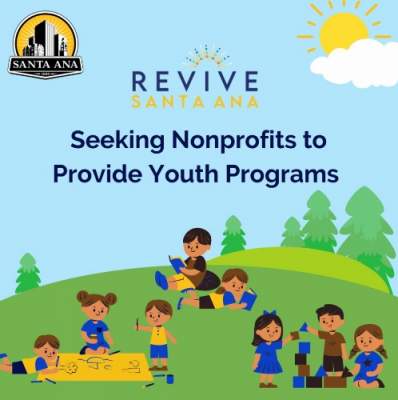 The City of Santa Ana encourages qualified local nonprofit organizations to submit a proposal for new Revive Santa Ana youth programs.
Revive Santa Ana is a federally funded comprehensive COVID-19 pandemic recovery initiative designed to deliver both short-term and long-term health, financial, educational and other support to the Santa Ana community.
The City of Santa Ana is issuing a Request for Proposals to award up to $2 million (Minimum: $50,000/Maximum $250,000) in federal grant funds to qualified nonprofit organizations that have the expertise and experience in providing the following youth programs:
Early childhood support
Head Start
Day care
After-school tutoring
Athletic programs
Youth violence prevention
Interested nonprofit organizations should register with Planetbids.com at the following Vendor Registration link and review this Request for Proposal: RFP 21-116A: Revive: Santa Ana Youth Program.
The deadline for submitting a proposal is December 17, 2021 at 5 p.m. There will be an informational Zoom meeting on December 7, 2021, at 9 a.m. Learn more about the informational meeting here.
The request for information deadline is December 9, 2021, at 5 p.m.
For more information about the meeting and the Request for Proposal, please contact Francisco Arroyo at (714) 571-4218.