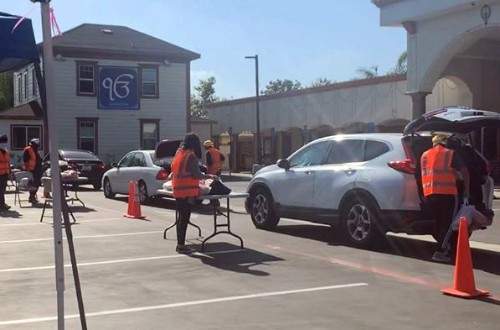 The Sikh Center of Orange County has been putting on a food drive every Saturday to help the community, and they will continue to do so through August. Read about that here.
While the Sikh make up a tiny population in our community, they took it upon themselves to do this incredible work.
Congressman Lou Correra and other politicians and SAPD police officers have also stopped by to help.
Sikhs are people associated with Sikhism, a monotheistic religion that originated in the 15th century in the Punjab region of the Indian subcontinent, based on the revelation of Guru Nanak. The term Sikh has its origin in the Sanskrit, meaning 'disciple' or 'student', according to Wikipedia.
The core beliefs of Sikhism, articulated in the Guru Granth Sahib, include faith and meditation on the name of the one creator; divine unity and equality of all humankind; engaging in seva ('selfless service'); striving for justice for the benefit and prosperity of all; and honest conduct and livelihood while living a householder's life.
The mission of the Sikh Center of Orange County, in following the tradition and teaching of our honorable Guru Nanak Dev Ji, is to provide accurate, reliable and complete religious, social and cultural teachings and understanding of Sikhism and the people who practice it."Sikhcenter.org focuses on promoting the messages of the 10 Guru's, starting from Guru Nanak Dev Ji to Guru Gobind Singh, and the Shri Guru Granth Sahib Ji, our living Guru. Through the use of digital communication, via the internet, Sikhcenter.org is designed to enrich the lives of practicing Sikh's around the world, by providing accurate, reliable, and complete religious, social and cultural teachings and understanding of Sikhism."