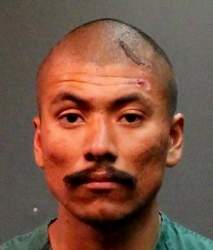 Santos Ramirez, 25, of Santa Ana, an auto theft suspect, led the SAPD through traffic Thursday on the 55 Freeway and surface streets in downtown Santa Ana before he was finally arrested, according to the O.C. Register.
One of our readers reported via Facebook that the suspect had been walking up to folks and stealing their purses. The SAPD confirmed that they had received reports of a possible robbery at about 4 p.m.
The responding SAPD police officers found the suspect in what turned out to be a stolen 2002 Chevy Tahoe. However when the police tried to pull him over the suspect took off in the stolen vehicle.
The suspect took off down West 1st Street, at times driving toward oncoming traffic, before he entered the 55 Freeway, going south.
The chase briefly sped along the 55 Freeway before jumping back onto city streets. The suspect was followed closely by about a dozen police cruisers in heavy rush-hour traffic, according to NBC News.
Ramirez was booked on suspicion of grand theft auto, driving under the influence of drugs, felony evading arrest and other offenses, according to the SAPD.