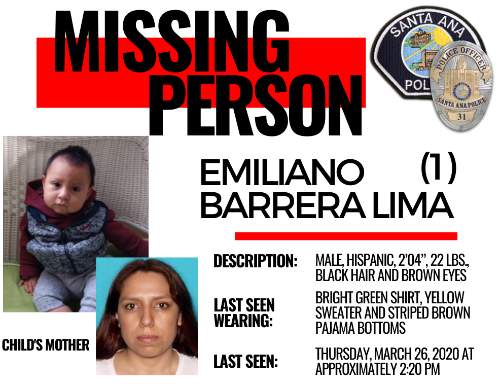 On 03/26/2020 at approximately 2:20 PM, during a scheduled visitation at a local McDonald's, Rosa Erika Lima Avila, the biological mother, drove away with Emiliano Lima.
Lima Avila's vehicle has been located. The whereabouts of Emiliano Lima and Rosa Lima Avila are not known at this time.
Description: Male Hispanic, 2'04" tall, 22 lbs., black hair , brown eyes, last seen wearing a bright green shirt, yellow sweater and striped brown pajama bottoms.
Missing Child: Emiliano Barrera Lima (1)
If you have information on their whereabouts, please contact Detective Gus Moroyoqui (714) or gmoroyoqui@santa-ana.org.