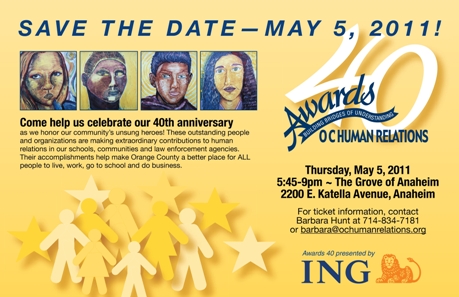 For 40 years, OC Human Relations has been honoring law enforcement, schools and community members for their contributions to human relations in Orange County. We invite you to nominate individuals or groups who have made extraordinary human relations contributions to Orange County. For example, people who advocate for human and civil rights, foster mutual understanding and respect among residents or work to peacefully resolve conflict.
This year, in honor of our 40th Anniversary, we are also calling for nominations for Lifetime Achievement Awards to honor those who have made long-term contributions (of at least 20 years) to Orange Couny in the areas of human relations or civil rights.
Information about the nomination process can be found at our website. Please feel free to forward this to anyone interested in submitting a nomination.
We look forward to receiving your nominations and to seeing you at Awards 40 on May 5, 2011!
Sincerely,
Bill Wood
Chair, OC Human Relations Commission
Nominations are due: 9AM, January 25th
Email:don@ochumanrelations.org
Fax: (714) 567-7474
Mail: OC Human Relations, 1300 S. Grand Ave, Bldg B, Santa Ana, 92705
Go to our website for more on Awards 40.  For more about OC Human Relations click here.
Questions?  Contact Don Han at (714) 796-8361 or email Don@ochumanrelations.org